Caleigh Azumaya named 2019 Anne Karpay Award in Structural Biology recipient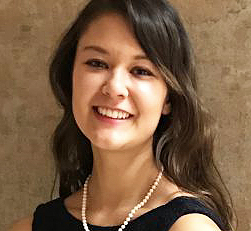 Congratulations to Caleigh Azumaya, of the Nakagawa Lab, for being selected the 2019 recipient of The Anne Karpay Award in Structural Biology.  Caleigh was chosen for her ability to perform outstanding research and for her collegiality and willingness to engage those around her.  Caleigh will present the MBTP/CSB Seminar on January 22, 2019, at which time she will also receive her award.
The Karpay Award was established in 2010 to honor the memory of Dr. Anne Karpay who died after a four-year battle with breast cancer. It recognizes one senior graduate student who is a well-rounded colleague and scientist, who is collaborative and collegial, and who has performed exceptional research in the field of structural biology. Dr. Karpay exemplified each characteristic and demonstrated a passion for science, for friendship and for life.
For more information about the award, please visit the CSB website.