2020 Holiday Message from Dean Marnett
Dear Colleagues,
We are coming to the end of a year that none of us could have imagined when preparing for the holidays in 2019. The global pandemic has claimed 1,600,000 lives worldwide and 300,000 in the US; the numbers keep climbing. Economies have been strained to breaking, and many are struggling to survive without jobs. Demands for racial justice spilled onto the streets during protests over the killings of Breonna Taylor and George Floyd.
The university shut down for two months in the spring and transitioned to remote working and learning before allowing research labs to reopen and welcoming students back for the fall semester. Laboratories are still working at reduced occupancy, and many of you have not been to your offices since March. Yet you continue to stay focused, work hard, and get things done.
Our Vanderbilt community complied effectively with university guidelines around masking, physical distancing, and hand hygiene, and we can all be proud that were no cases of virus spread in our laboratories or our classrooms even as the number of cases in the community rose rapidly.
We have witnessed stunning progress in the creation of vaccines, antibodies, and drugs to prevent and treat COVID-19. First doses of vaccine were delivered this week to health care professionals at Vanderbilt who have been risking their lives daily to save others. Some of the advances in prevention and treatment occurred at Vanderbilt, enabled by colleagues who have been preparing for years for just such a moment. Thus, even as cases continue to rise, relief is on the horizon.
Most of us are heading into the holidays with a sense of gratitude, apprehension, and hope. Sadly, we know that some of our colleagues and trainees are dealing with the loss of loved ones this year, and our thoughts are with you. Regardless of what holiday you celebrate or what traditions you follow, I wish you all the joy of the season, an opportunity to relax, and the time to reflect. This is traditionally a time of generosity and love — of helping those less fortunate. Although we are anxious for the arrival of 2021, we can distinguish these last few days of 2020 by digging deep and giving from our hearts. The pandemic has devastated those least able to deal with it, and community organizations are overwhelmed by need. If you can, your contributions to local charities struggling for resources will spread the spirit of the season to those who need it most.
Best wishes for the holidays and a brighter 2021!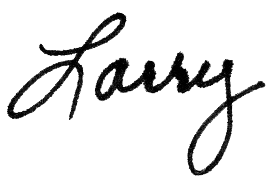 Larry Marnett
Dean, School of Medicine Basic Sciences