Back To Work

Masks provided to departments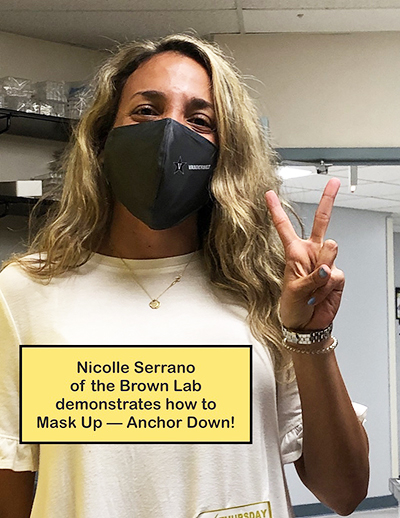 All four of our departments (Biochemistry, Cell and Developmental Biology, Pharmacology, and Molecular Physiology & Biophysics) have been given a set amount of VU-branded masks for distribution to all faculty, staff, and postdocs. Graduate students will get their masks from the BRET Office via their director of graduate studies. If you have any questions, please email your department's administration. Staff who work in cores will get their masks from the department/center which houses the core.

Lab Openings
Phase II+ of Basic Sciences return to campus has begun. Face masks and one bottle of hand sanitizer have been provided to departmental labs since the first phase of lab reopening.  Please note that face masks can be re-used.  Gloves, goggles, face shields will not be provided.
All labs are requested to place their lab/office trash out into the corridors to be picked up by housekeeping.
Bio-hazard and chemical waste will be treated as was done before the shutdown.
Basic hygiene protocols should be carefully followed:  keeping a distance even from lab colleagues, masking up at all times outside the lab, looking for traffic guides in corridors and elevators, and frequent hand washing whenever touching a "foreign" object.  Students and lab personnel should take guidance from their faculty advisor as additional phases of lab openings occur.
Find more information about Vanderbilt University's 4-Phase Research Ramp-Up plan here.
Return to Campus
The information on this page represents the latest return to campus updates for graduate students, postdocs, faculty, and staff. New details will be added to each section as they are available.
1220 MRB III Classroom Audio-Visual Upgrade
The 1220 MRB III classroom has been upgraded with adaptive teaching technology that captures audio and video of the instructor and audio of students to facilitate Zoom or Microsoft Teams presentations. See this website for FAQs and a training video about this audio-visual technology.
Vendors
As part of our return to campus ramp-up, P&PS wanted to provide guidance with respect to bringing suppliers on site.   All departments should direct suppliers or prospective suppliers to Vanderbilt's training material for proper on-campus practices before they will be permitted to provide on campus services.
All suppliers and prospective suppliers will be required to read and acknowledge Vanderbilt's rules for proper on campus practices regarding COVID-19.  Suppliers will be required to complete an online attestation for representatives from their respective organizations who will provide on campus services.  P&PS will document the suppliers' representatives and attestations on their supplier record in Oracle.  Departments will have visibility into whether a supplier has attested to our COVID-19 rules in Oracle.
Screening Stations
All lab personnel and staff must be screened before entering campus buildings. Screening stations have been set up in the basement of MRB III (enter through 21st Avenue loading dock), the Round Wing, Light Hall (east/plaza side), and the Cancer Center (Preston Research Building) entrance on Pierce Avenue. Screeners will make a temperature check and ask if you have shown COVID-related symptoms in the past seven days. You will be given a day-sticker with an adhesive backing to attach to your clothing. You will not be required to be screened again upon leaving and reentering buildings for that day as long as you wear the sticker. See this map for screening locations. Click here for VUMC screening sites.
All lab personnel and staff are required to wear face masks while on campus (except at your desk or bench), including public areas such as hallways, bathrooms, elevators, and break areas.
I have symptoms! What should I do?
Go to this page, and scroll down to "Fall 2020 Health & Safety," then click on "Symptom Monitoring: Faculty, Staff, Postdoc, Graduate and Professional Students"
Compliance Violations
Please contact the Office of Compliance
anonymous hotline
 to report compliance violations or call 844-814-5935.
Mental Health
View links to VU mental health resources here.
Thursday, April 16, 2020 Science streaming webinar: Coronavirus: A Survival Guide. Free for all with registration. For more information, a list of speakers, or to register go here.
Click here to view the Supporting Yourself and Your Trainees During the Coronavirus Pandemic April 14 workshop PDF.
Family Life Resources
Find family resources to manage new routines related to COVID-19
here
.
Access Art Adventures Enrichment Program for Vanderbilt parents with school-age children info 
here
.
Access Vanderbilt University Employee COVID-19 Emergency Relief Fund info
here
.
NIH Guidance on Grants
Get sponsor-specific guidance (including links to Federal and Non-Federal Sponsor Guidance) which is being updated daily, here.
Get the latest coronavirus Disease 2019 (COVID-19) information for NIH Applicants and Recipients of NIH Funding here.
Graduate Students & IGP/QCB Applicants
View updated information for BRET grad students & IGP/QCB applicants here.
Basic Sciences COVID-19 Funding Opportunities
See federal (public) funding opportunities related to COVID-19 here.
See corporate and foundation relations (private) funding opportunities related to COVID-19 here.
Key University Contacts
Get key University contacts here.
Safety Videos
COVID Research Education Video 1 – Viral Transmission: Air
COVID Research Education Video 2 – Viral Transmission: Masking
COVID Research Education Video 3 – Viral Transmission: Surface Contamination