Caring for Basic Sciences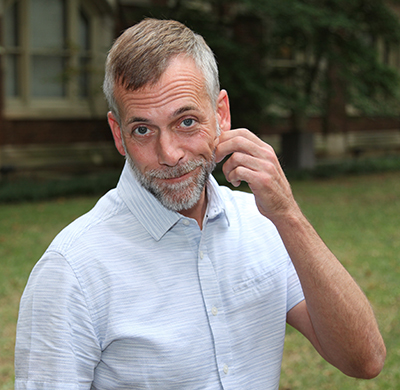 The COVID-19 pandemic did not lessen the workload for the Office of Facilities, Infrastructure and Risk Management (FIRM) in the School of Medicine Basic Sciences. The FIRM, headed by Assistant Dean Anthony Tharp, Ph.D., was significantly involved with the planning and execution of the Basic Sciences COVID-19 response from the initial shutdown in March through the setting up of classroom spaces compliant with university guidelines in the fall. Two of his program coordinators, Hastings Benitone and Josh Luffman, and his administrative assistant, Amber Green, supported these efforts from home until they were approved to return to work.
Since lab and office personnel were restricted from coming to campus, Dean Tharp was on-site daily to ensure that external entrances to buildings were locked down, lab doors were locked and equipment/cold room alarms were not sounding. Basic Sciences occupies nearly 500,000 square feet of space in eight VU/VUMC buildings, making this a significant challenge.
As limited numbers of personnel planned to return to the lab during Vanderbilt's Phase 1 (enacted on DATE), the FIRM orchestrated the procurement of scarce personal protective equipment, hand sanitizer, and surface cleaning supplies and distributed them to the Basic Sciences, which has approximately 1,300 employees and graduate students. Classes, conference rooms, and shared public spaces had to be set up such that seating complied with social distancing guidelines. Teaching faculty had to have additional face protection and glass barriers installed for in-person classes.
At the same time, the FIRM was overseeing numerous projects that did not stop with the shutdown. We had four facility renewal projects ongoing along with Plant Operations and contractors in MRBIII, which needed to continue in order to properly maintain the building. The FIRM assisted with the onboarding of four new faculty members who joined Basic Sciences in the late summer, and are helping to plan for another faculty member's arrival in January. They worked with VU Campus Planning and VUMC Facilities Management on a dozen large and small renovation projects, including the new Cryo-electron Microscopy facility in the Engineering and Science Building, a cryo-EM tissue processing suite in Brain Institute space in MRBIII, a lab renovation for a new faculty recruit in MRBIII, a helium-capture buildout in the Math and Biomolecular NMR building, 10-GB upgrades in multiple areas, two lab moves with renovations, and many smaller projects. The FIRM also worked on two large institutional solutions that originated from Dean Tharp and subsequently were adopted by the university: a freezer monitoring system and radio-tagging of capital assets to facilitate inventory maintenance.
The FIRM continues to work closely with the university on compliance, safety issues, and planning during the COVID-19 response, and work continues daily with VU and VUMC Campus Planning for the everchanging facility and infrastructure needs to help ensure that Basic Sciences labs and administration have the best environment and tools in which to do their work.