Equity, Diversity and Inclusion

Vision and Mission Statement
The Vanderbilt School of Medicine Basic Sciences strives to create an inclusive environment for training, research, and discovery, where faculty, staff and trainees from diverse backgrounds and identities experience respect and a sense of belonging; and where they are supported and empowered to reach their full potential.
Our mission to create an inclusive community is based on the following core principles:
Building an inclusive community is a shared responsibility.
Building an inclusive community leads to excellence.
Building an inclusive community enables the benefits of diversity to foster creativity and accelerate discovery
Show your support with lab posters!
Download the poster files using this link.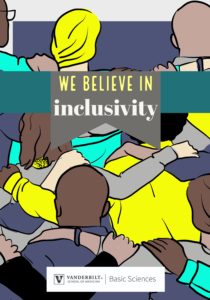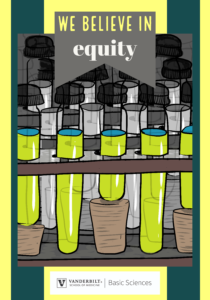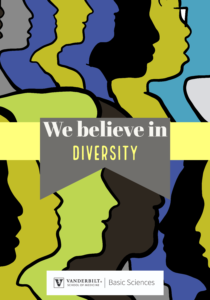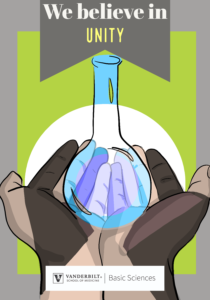 *commissioned by the MBP DEI Committee, Artist: Kendra Oliver
Basic Sciences Equity, Diversity and Inclusion Initiatives
• "Celebrate Immigrants" video profiles honor our community's unique immigrant experiences.
• Culturally aware mentoring (CAM) workshops. 106 faculty trained (sample workshop overview).
• Discovery Science Emerging Scholars seminar series.
• Faculty workshops to craft mentoring and diversity statements. Approx. 116 faculty attended.
Statements are available to TG directors.
• Lou DeFelice travel awards for faculty to accompany summer undergraduate student to SACNAS
or ABRCMS and help us with diversity recruiting for IGP/QCB.
• Fair Play video game workshop.
• Gender issues: Hosted Frazier Benza to present briefing on the NAS report on gender and
sexual harassment in STEM.
• Hosted faculty training sessions on Responding to and Reporting Gender and Sexual Harassment
at Vanderbilt presented by VU Project Safe, Title IX and EEO.
• Held listening sessions for PhD students to address the power differential between faculty
mentors and trainees.
• From above, Kathy Gould and Linda Sealy created the auxiliary mentors resource.
• Created a Climate, Culture and Career Plans survey for graduate students. View survey description and results.
• Bystander training for PhD students and postdocs.
Anti-Racism Resources
Download this spreadsheet, which contains information and links including Activities, Vanderbilt Student Engagement Opportunities, Ally Resources and more – recommended by Dr. Andre Churchwell, Vice chancellor for Equity, Diversity and Inclusion and Chief Diversity Officer for Vanderbilt University.
Other Resources
WE ARE THE ONES WE HAVE BEEN WAITING FOR:  RESOURCES FOR FACULTY ENGAGEMENT ON SYSTEMIC RACISM AND INJUSTICE
JOURNALS
What Comes Next? Simple Practices to Improve Diversity in Science, by Steven Townsend
Articles
White Privilege: Unpacking the Invisible Knapsack
BOOKS
Making all Black Lives Matter – Barbara Ransby
The History of White People – Nell Painter
The Fire Next Time – James Baldwin
How to be an Antiracist – Ibram X. Kendi
So You Want to Talk about Race – Ijeoma Oluo
White Fragility – Robin DiAngelo
The New Jim Crow – Michelle Alexander
Racism without Racists – Edurardo Bonilla-Silva
Just Mercy – Bryan Stevenson
The Color of Law – Richard Rothstein
Me and White Supremacy – Layla Saad
Between the World and Me – Ta-Nehisi Coates
The Possessive Investment in Whiteness: How White People Profit from Identity Politics – George Lipsitz
MULTIMEDIA
13th – Netflix
How I Learned to Stop Worrying and Love Discussing Race
Race Forward – What is Systemic Racism?
How to Be an Antiracist Educator?
We're in a moment of collective trauma. But there are glimmers of hope – Berkeley Blog
Avoiding Racial Equity Detours – Paul Gorski
Inside Higher Ed – Evidence-Based Action is Required
Inside Higher Ed – Channel Outrage and Disillusionment into Action
Inside Higher Ed – Making Sense of the Senseless
Inside Higher Ed – A Call to Action
Teaching Tolerance – How Can We Build Anti-Racist White Educators?
Colours of Us – 37 Children's Books to help talk about Racism & Discrimination
WEBSITES
National Center for Faculty Development & Diversity (Vanderbilt University Access)
Higher Education Recruitment Consortium (Vanderbilt University Access)
EAB (Vanderbilt University Access)
National Museum of African American History & Culture – Talking About Race
RECOMMENDED FROM JUNE 5TH FACULTY SESSION
Nashville Council Districts Map
Crossroads Antiracism Organizing & Training
Vanderbilt Center for Teaching Guides – Difficult Dialogues
Vanderbilt Center for Teaching Guides – Teaching Race
RECOMMENDED FROM JUNE 9TH FACULTY SESSION
Harvard Business Review – 10 Commitments Companies Must Make to Advance Racial Justice
Deloitte/Wall Street Journal – 6 Characteristics of Inclusive Leaders