Black Excellence in the Department of Molecular Physiology and Biophysics To celebrate Juneteenth 2021, the graduate student association of the Department of Molecular Physiology and Biophysics, created a poster that celebrates Black excellence within the field of physiology and a video where members of the department and university leadership shared what Juneteenth means to them. You can read more about both here.The poster highlighted several individuals from Vanderbilt and from within MPB. You can read their bios below, and can explore a larger version of the poster here.
---
1. 1931: Charles Manlove (1910–1989)
Began his career as a "janitor" (in reality, a lab technician) at Vanderbilt in the Department of Bacteriology in 1928. He went on to work in the laboratory of Dr. Ernest Goodpasture, where he worked while devising a new method of virus culture that provided an enormous stimulation to the field of virology. Brother to Andrew Manlove (below).
2. 1936: Andrew Manlove (1917–2014)

Joined Vanderbilt Hospital at the age of 17 in the Dietary Department. Seeking an opportunity to work more closely in patient care, he took a salary cut to work in Surgical Research with Dr. Alfred Blalock and Vivien Thomas. Even after Blalock and Thomas left Vanderbilt, Manlove taught aseptic surgical techniques and the principles of postoperative care to surgical residents and third-year medical students for more than 40 years. Brother to Charles Manlove (above).

3. 1943: Vivien Theodore Thomas (1910–1985)

Joined Dr. Alfred Blalock's lab as a scientist and surgical technician and went on to develop procedures to treat cyanotic heart disease. He was legally classified and paid as a janitor despite the fact that, by the mid-1930s, his duties were indistinguishable from those of postdoctoral researchers. Vivien and Blalock would go on to make great leaps in the understanding of the causes of hemorrhagic and traumatic shock in humans. Their work would ultimately save thousands of lives during World War II.
4. 1945: James Phillips Sr.

Dedicated 48 years of service to the Department of Surgery and the medical center, first as a research technician and later as the coordinator of the S.R. Light Laboratory Surgical Facilities. Every surgical resident who went through a research fellowship from 1947 to 1995 was the beneficiary of his wisdom and experience in large-animal research and surgery.
5. 1956: Edward E. Price (1939–2007)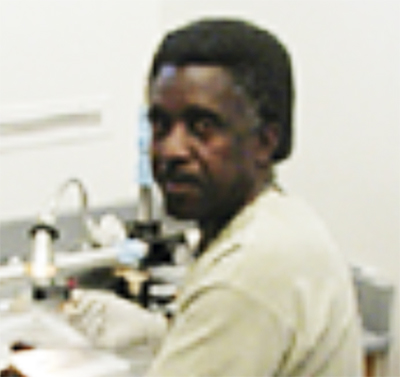 Internationally known research assistant in the Vanderbilt University Department of Biochemistry and in the Cardiovascular Physiology Core, where he performed sophisticated cardiovascular procedures on mice in collaboration with investigators interested in myocardial infarction (heart attack) and high blood pressure research. Brother to Howard Price (below).
6. 1958: Melvin Fitzgerald (1937–2021)

Served for over 56 years as a supervisory research assistant in the Department of Biochemistry, and was an expert in conducting mouse experiments and real-time small instruments such as pressure transducers.
7. 1963: James (Jim) Davis (1926–unknown)
Joined Vanderbilt as a very advanced laboratory technician in the lab of Dr. Earl Sutherland in the Department of Physiology. In addition to being one of the first two recorded Black staff members in the physiology department, he may also have been one of the first Black technicians in the medical school. Before Vanderbilt, James Davis had spent time working in Sutherland's lab at Case Western Reserve in Cleveland, Ohio, and continued to work with Sutherland, who would go on to receive the Nobel Prize in Medicine or Physiology, until 1970. During that time, Davis contributed a significant amount of work related to the isolation and characterization of cyclic AMP and the mechanics of hormone secretion (Hardman, Davis, et. al, J Biol Chem, 1966). Davis also managed the majority of Sutherland's lab and performed many of the major techniques used in the lab.

8. 1963: Joe Campbell
Joined Vanderbilt as a laboratory technician in Dr. Earl Sutherland's lab around 1963. He performed assays related to Sutherland's work in characterizing cyclic AMP, including running samples on columns. Originally from the Carolinas, Joe Campbell once recounted having to wait to cross a bridge on his way to school until all of the white children had crossed first. He related other stories to his colleagues at Vanderbilt about his upbringing in a culture of "whites only" and "no coloreds allowed" segregation. During his time in Sutherland's lab and along with Jim Davis, Joe Campbell became one of the first two recorded Black staff members in the physiology department.
9. 1975: Richard H. Pointer

Joined Tetsuro Kono's lab at Vanderbilt as the first recorded Black postdoctoral fellow in MPB. Pointer received an undergraduate education from Morehouse College and earned a doctoral degree from Brown University, where he studied biochemical endocrinology. During Pointer's postdoctoral tenure at Vanderbilt, he contributed significant findings related to our understanding of insulin sensitivity and glucose entry in fat cells, despite receiving very poor and "appalling" treatment according to some of his contemporaries' recollections (Makino H, Pointer RH, et al., J Biol Chem, 1980). Dr. Pointer then went on to become a professor of biochemistry and molecular biology at Howard University in Washington D.C. in 1980, where he remained for over 40 years. He is currently a professor emeritus at Howard University College of Medicine.
10. 1975: Dr. Levi Watkins Jr. (1944–2015)

First African American who was admitted to and graduated from the Vanderbilt University School of Medicine (1966–1970). In 1973–1975, while at the Harvard Medical School Department of Physiology, he researched the role of the renin angiotensin system in congestive heart failure, and this breakthrough work led to the use of angiotensin blockers in treating heart failure. Later, he became a professor and associate dean at the Johns Hopkins University School of Medicine. He performed the first implantation of an automatic defibrillator into a human heart in 1980.
11. 1992: Dr. Allyson Campbell Spence

Joined Vanderbilt as one of the first two recorded Black Ph.D. students in MPB. She earned a Ph.D. in Tony Weil's lab in 1998 and then an M.D. in 2000. From Vanderbilt, she went on to the University of Pennsylvania for her internal medicine residency, and then fast-tracked to Stanford University in 2002 for a fellowship in medical oncology. She now serves as a clinical assistant professor in breast oncology and maintains an appointment at the Palo Alto VA Hospital. Additionally, she stays busy in her roles as a wife and mom to three girls and with two hobbies she picked up during her days at Vanderbilt: running and biking.
12. 1992: Dr. Constance Mobley

Joined Vanderbilt as one of the first two recorded Black Ph.D. students in MPB. She earned her M.D./Ph.D. in Linda Sealy's lab in 2003, and went on to complete her general surgery residency and fellowship in surgical critical care at the University of Michigan. Subsequently, she completed a fellowship in abdominal multi-organ transplant and hepatobiliary surgery at UCLA, and later joined the staff of Houston Methodist Hospital in 2014, where she remains now. She serves in a variety of distinguished roles and is also an assistant professor of surgery at Weill Cornell Medical College. Board-certified in general surgery, surgical critical care, and transplant surgery, Mobley has special interests in the management of critically-ill liver failure patients, methodologies to improve liver transplant success in patients with high MELD (Model for End-Stage Liver Disease) scores, and the management of cirrhotic and/or post-transplant cardiomyopathy.
13. 1993: Sarah K. England

Joined MPB as a postdoctoral fellow in the lab of Mike Tamkun after receiving an undergraduate degree from Carleton College and completing doctoral training in physiology at the Medical College of Wisconsin (England et al., PNAS, 1995). Following her time at Vanderbilt, England moved to the University of Iowa as an assistant professor, where she began to study the molecular mechanisms underlying uterine function during pregnancy. In addition, she spent a year working in the office of Senator Hillary Rodham Clinton on policies related to issues of maternal child health, women's health, the healthcare workforce, and health disparities. In 2011, she joined the faculty at the Washington University School of Medicine in St. Louis as the Alan A. and Edith L. Wolff Professor of Medicine and a professor of obstetrics and gynecology with a secondary appointment in the Department of Cell Biology and Physiology. Her lab primarily focuses on determining how ion channels in the myometrium modulate uterine excitability and contractility during pregnancy, the role of the oxytocin receptor in controlling uterine excitability, and how disrupted circadian rhythms affect pregnancy outcomes.
14. 2010: AJ Baucum

Joined Vanderbilt as an MPB postdoctoral fellow in Roger Colbran's lab in 2006 after graduating from Loyola Marymount University and earning his doctoral degree from the University of Utah. In Colbran's lab, he developed methods to analyze changes in synaptic protein assemblies in different diseases. He became a research instructor in 2010, becoming the first Black faculty member in MPB. After leaving Vanderbilt in 2013, Baucum went on to become an associate professor of biology at Indiana University – Purdue University Indianapolis School of Science, where he remains today. He also holds a primary faculty appointment in the Stark Neurosciences Research Institute and an adjunct associate professor appointment in pharmacology and toxicology at the Indiana University School of Medicine. His research is helping to clarify the importance of the protein spinophilin in multiple diseases associated with altered dopaminergic signaling. His studies have also paved the way for the generation of specific transgenic animals that are now used to answer questions related to the action of spinophilin in certain cell types (Hiday AC, Baucum 2nd AJ, Neural Plasticity, 2017).
15. 2020: Howard Price

Began working in VUMC in 1959 and serves currently as the supervisor in the media glassware room in the Department of Pathology, Microbiology and Immunology. Over his 57 years at the medical center, Price has overseen the handmade development of all forms of culture media—fungal, bacterial and mycobacterial. He has greatly impacted programs in Pediatric Infectious Diseases and the Vanderbilt Vaccine Center. Notably, during the COVID-19 pandemic, when the VUMC Clinical Laboratories ran out of viral transport media, which is necessary for COVID-19 testing, he provided a critical recipe for it dating from his early years working with the pediatric infectious diseases department. He had remembered the recipe was in an old lab notebook from 1983 that he had kept. Brother to Edward Price (above).
16. 2021: Antentor "AJ" Hinton Jr.

Will join Vanderbilt as an assistant professor in the fall of 2021 as the first recorded Black faculty member on the tenure track in MPB. Hinton received his undergraduate degree in biology from Winston-Salem State University, and completed his NIH postbac and Ph.D. at Baylor College of Medicine in integrative molecular and biomedical science (Hinton AO et al., Hypertension, 2016; Xu P et al., J Clin Invest, 2015). From there, he went on to work as a postdoctoral fellow in the laboratory of Dr. E. Dale Abel at the University of Iowa, where he studied the mechanisms by which insulin signaling regulates Optic Atrophy 1 Protein activity (Hinton AO et al., Cell, 2020; Hinton AO et al., EMBO reports, 2002). In addition to his extensive work at Iowa, Hinton also held an appointment as a visiting postdoctoral fellow at the Mayo Clinic. At Vanderbilt, he will continue his work on understanding the insulin-mediated mechanisms that regulate cristae dynamics in the mitochondria, along with the molecular mechanisms that regulate molecule transfer and morphology changes between the mitochondria and the endoplasmic reticulum. His work will help illuminate how these processes are related to the pathophysiology involved in diabetes and cardiovascular disease.