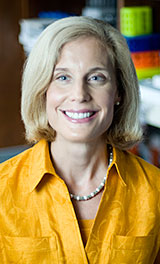 Jennifer A. Pietenpol, Ph.D.
Executive Vice President for Research, VUMC
Director, Vanderbilt-Ingram Cancer Center
Brock Family Directorship in Career Development
B.F. Byrd Jr. Professor of Oncology
Professor of Biochemistry & Otolaryngology

---
: 652 Preston Research Building
23rd & Pierce Avenue
Nashville, - 37232-0146
Triple negative breast cancer & p53 family proteins
Name: Pietenpol, Jennifer A.
Title: Professor of Biochemistry
Department: Biochemistry
Office Address: 652 PRB
Phone Number: (615) 936-1512
E-mail: j.pietenpol@vanderbilt.edu
Lab URL: http://www.vicc.org/dd/display.php?id=3
Research Keywords: cancer, p53, p63, p73, gene regulation, cell cycle, apoptosis, metabolism, breast cancer
Research Specialty: p53 family signaling axis (p53, p63, and p73); Mechanisms of cell cycle checkpoints; Breast Cancer; Head and Neck Cancer
Research Description: Pietenpol Research Summary Some defining properties of tumor cells are increased cell proliferation, decreased cell death and genomic instability. These characteristics are acquired as a consequence of mutations in genes that control the fidelity and frequency of cell division as well as the ability of the cell to initiate pathways of apoptosis.
A goal of cancer-based research is to provide new therapeutic approaches that specifically target the molecular interactions and biochemical pathways that are changed in tumor cells. In order to achieve this goal, a much greater understanding of the signaling pathways that control normal proliferation is required and is the continuing focus of research in the Pietenpol Laboratory. Research in the Pietenpol laboratory has set the stage for current and future studies that are focused on further dissection of select biochemical pathways that control processes of tumor suppression, development, metabolism, and aging.
An overall focus is to determine the role of the p53 family signaling axis in normal proliferation and tumorigenesis of squamous and glandular epithelial cells and to translate mechanistic findings to advances in cancer patient care and treatment in the clinical setting. Current research aims in the laboratory include:
• Determining the role of novel p53 target genes in pathways of apoptosis and
cellular response to genotoxic stress.
• Defining the role of novel p63 target genes in basal epithelial cell
differentiation, migration, adhesion, and tumorigenesis.
• Discovering novel p73 target genes and defining the role of p73 in tumor
suppression, metabolism, and aging-related diseases.
• Translating our molecular findings about the p53 family signaling axis and cell
cycle checkpoint pathways to humans through analysis of breast, head and
neck and prostate cancer.
Postdoctoral Position Availability and Details: Please apply by e-mail to: j.pietenpol@vanderbilt.edu
PubMed Listing of Dr. Pietenpol's Publications
---