How one physician is seeking novel answers to physician burnout in clinical informatics
by Emma Mattson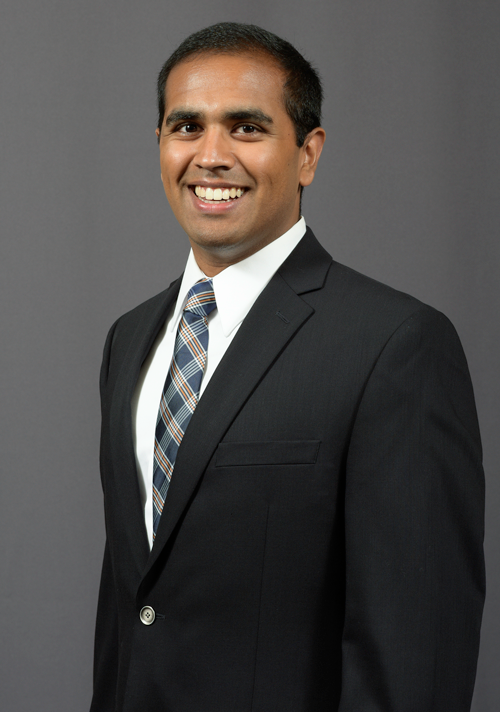 Can a simple change in clinic workflow reduce physician burnout? Geevan George, MD and current member of Vanderbilt's Applied Clinical Informatics (MSACI) cohort, certainly thinks so— and he's using clinical informatics to find out.
During his residency, George saw firsthand how documentation exacerbated the demands placed on primary care physicians. In fact, when his center switched to a different electronic medical record (EMR) system, several physicians decided to retire rather than adjust to an entirely new system.
But it wasn't just the older generation of physicians: George saw this pattern of frustration replicated across all levels. Soon, he began asking a simple question.
How can we optimize clinician workflow so that EMR is an asset, rather than a burden?
Finding the answer to this question proved more challenging than George had expected.
"I worked with an analyst for eight months, trying to get data out [of the EMR system], and ultimately it failed," George said. "I kept on asking the clinical question and trying to find the data part within it that the analyst could pull, and they couldn't do it."
Here, for the first time, George saw the gaping chasm between the clinical and IT worlds. To optimize his clinical workflow, he would need to learn the language of IT. And for that, he would need clinical informatics.
A Bridge Between Two Worlds
Clinical informatics is a powerful tool for engaging unanswered clinical questions. Yet, George said, not enough people understand clinical informatics as a field.
"A lot of people think of a clinical informaticist as a physician who's coding," George said. "And I feel like that's a hurdle."
Instead, George describes a clinical informaticist as the bridge between two worlds. While many clinical informaticists do code, the most important requirement for the job is excellent communication skills.
"I know my clinical questions; I have thousands of clinical questions," George said. "How do I communicate one of those questions succinctly, but then also think through the process of how does a programmer or an analyst pull that data?"
Translating these clinical questions effectively requires a clinical informaticist to understand both the clinical and the IT side of a question. So, to dive into the world of informatics, George joined the Vanderbilt MSACI.
A Cohesive Learning and Working Experience
Though George could have pursued a full-time clinical informatics fellowship, he ultimately chose Vanderbilt's Master program in Applied Clinical Informatics. Since MSACI is a fully virtual program, George could continue growing his practice full-time in South Carolina, while still connecting with providers across the country on the cutting edge of clinical informatics.
"What really drew me to Vanderbilt was the ability to learn from the people who defined the field of clinical informatics, which are all at Vanderbilt, but then also be in an active clinical setting," George said.
The MSACI coursework employs a flipped-classroom model, where members of the cohort engage the didactic portion of the course asynchronously, listening to lectures, posting on discussion boards, and completing projects on their own time. And, George said, the asynchronous work makes the cohort's weekly, three-hour meetings even more rewarding.
Since the cohort members come from a variety of specialties, the synchronous period offers time to reflect on how the material taught applies to each specific field. Guest speakers and Vanderbilt experts also join the class to discuss how they've implemented clinical informatics solutions on the ground.
After completing their first year of intensive coursework, the seven-person MSACI cohort will dedicate their second year to a capstone project wherever they're currently working.
Through it all, George hopes to continue tackling clinical questions, like the optimization concerns that have fascinated him since the beginning. And he encourages current med students to take a closer look at clinical informatics to see if it could be right for them.
"We need more physician input," George said, "and we really need more people who are, not just interested, but passionate about it, too."
Read more about Vanderbilt's Master of Clinical Informatics and the stellar faculty who lead the program.