Interdisciplinary Neuroscience Program for Undergraduates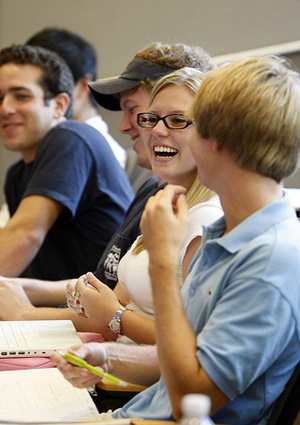 The study of the nervous system is an interdisciplinary enterprise that draws upon a variety of scientific disciplines ranging from molecular biology and biophysics, to computational science and engineering, to the study of behavior and cognition. To meet the challenge of providing training for entry into this exciting and growing field, Vanderbilt offers its undergraduates an interdisciplinary program of concentration in Neuroscience. The major in Neuroscience is excellent preparation for entry into graduate programs in neuroscience, biology, or psychology, or as preparation for the study of medicine.
The program utilizes expertise from several departments and schools within the University to provide a comprehensive background in the basic sciences of biology, chemistry, mathematics, and physics as well as a strong foundation in the fundamentals of neuroscience. As students advance, they are able to pursue advanced work in one or more specific sub-areas of neuroscience through elective courses. Students are especially encouraged to participate in research in the laboratories of neuroscience faculty under the auspices of the Undergraduate Research courses, Neuroscience 292 and 293. More extensive research experience is available through the Honors Program in Neuroscience. For more detailed information about the requirements and opportunities of the program please have a look at the Undergraduate Neuroscience Program website. You are also invited to visit the web site of the undergraduate student organization, the Neuromajors Club.