Job opportunities

******************************************************
New York University is proud to announce that applications are open for our 2-day annual symposium, CoNNexINS.
CoNNExINS (Colloquium at NYU for Networking: Extramural for Invited Neuroscience Students) will give advanced graduate students the opportunity to give formal seminars to the NYU Neuroscience Community. The experience will be a valuable opportunity for external students to share their research and receive feedback from NYU faculty, postdocs, and students while connecting with potential laboratories for a postdoctoral position. This will be a platform for senior graduate students to learn about our NYU postdoctoral training programs, and connect with potential laboratories for a postdoctoral position. Our goal through this series is to increase diversity in our postdoctoral trainee group through the active recruitment of those from underrepresented minority groups. This event will be in-person and travel and board will be provided. Speakers will also receive an honorarium.
For more information, visit our website: https://wp.nyu.edu/connexins/
Applications Close: April 1, 2022
Dates: June 16-17, 2022
This event is organized by The Neuroscience Institute Committee on Diversity and Inclusion, and the Center for Neural Science Committee on Diversity, Equity, and Inclusion, in collaboration with the NIH-funded DeNDriTeS program at NYU.
If you have any questions, email us at neuroscience.institute@nyulangone.org.
************************************************************************************************************************************************************************************************************************
Oberlin College and Conservatory
The neuroscience department at Oberlin college has a tenure track position in neurodevelopment. Please click the link below for more information.
https://jobs.oberlin.edu/postings/10986
***********************************************************************************************************************************************
MILKEN INSTITUTE
Hello,
I am writing to share a unique opportunity for research funding, with the hope that you can share it with relevant researchers at your institution.
The Milken Institute, in collaboration with The REAM Foundation, is administering a grant program focused on misophonia. The Misophonia Research Fund, established in 2019, has awarded twenty grants, disbursing over $6 million of funding in the past three years. The program supports two-year projects led by either faculty or postdocs with annual budgets of up to $200,000.
We are enthusiastic to share the Request for Proposals to initiate the next funding cycle. The RFP is soliciting research proposals that aim to characterize misophonia, develop objective methods to assess misophonia, or evaluate interventions for misophonia. We are requesting letters of intent by December 10, 2021 and full proposals will be due on March 11, 2022.
Additionally, the Misophonia Research Fund is facilitating a simultaneous call for research proposals specifically seeking to validate one or more tools to assess, identify, and diagnose misophonia. If you or researchers at your institution have additional questions, please visit our website or contact our team at misophonia@milkeninstitute.org.
Misophonia is a disorder of decreased tolerance to specific sounds or stimuli associated with such sounds. These stimuli, known as "triggers," are experienced as unpleasant or distressing and tend to evoke strong negative emotional, physiological, and behavioral responses that are not seen in most other people. Trigger stimuli are often repetitive and primarily, but not exclusively, include stimuli generated by another individual, especially those produced by the human body (such as chewing or sniffing). The expression of misophonic symptoms varies, as does the severity, which ranges from mild to severe impairments. For more information, visit https://www.medrxiv.org/content/10.1101/2021.04.05.21254951v2.
Thank you for your help in spreading the word.
Sincerely,
Cara Altimus, Ph.D.
***********************************************************************************************************************************************
Call for applications: Wu Tsai Postdoctoral Fellowships
The Wu Tsai Institute (WTI) is a new neuroscience institute at Yale University that seeks to understand human cognition and explore human potential by establishing an inclusive and interdisciplinary community spanning the biological, psychological, and computational sciences. Wu Tsai Postdoctoral Fellowships are a key part of attracting and fostering the career success of a new generation of integrative scientists.
Our Postdoctoral Fellowships include a generous stipend ($60K starting) for up to 3 years, funds for training, cohort-based professional development and community-building activities, and access to cutting edge facilities at WTI. Applicants are encouraged to indicate their Priority Area of interest (see below), selected for the outstanding interdisciplinary research and inclusive training environments. They may also apply to our open track, eligible for working with ~100 affiliated labs.
Advanced graduate students and recently graduated postdoctoral researchers are welcome to apply. We particularly encourage applications from scientists from backgrounds historically underrepresented in science and/or who have a demonstrated commitment to fostering diversity, equity, and inclusion. International applicants are eligible and welcome to apply.
***********************************************************************************************************************************************
Brown University
Laboratories for Molecular Medicine
70 Ship Street, Box G-E4
Providence, RI 02912
Postdoctoral Fellowship: Molecular and Cellular Neuroscience of Disease
Location: Laboratory of Eric Morrow MD PhD, Brown University Campus – 70 Ship Street, Providence RI
Department: Molecular Biology, Cell Biology & Biochemistry; Center for Translational Neuroscience, Carney Institute for Brain Science
Apply Here: https://apply.interfolio.com/63107
The Morrow Lab seeks a highly motivated postdoctoral research associate/fellow with experience in molecular and cellular neuroscience. This position will focus on research involving molecular and cellular mechanisms of neurodevelopmental and/or neurodegenerative disease.
Candidates with a strong training and background in molecular and cell biology, biochemistry, genetics, and ideally in vivo neuroscience are desired.
The laboratory PI, Eric Morrow MD PhD, is the Director of the Brown University Center for Translational Neuroscience in the Carney Institute for Brain Science and the Brown Institute for Translational Science. The Morrow Lab and the Center for Translational Neuroscience is housed in a collaborative and multi-disciplinary Laboratories for Molecular Medicine at Brown University in Providence, Rhode Island.
The research focus of Dr. Morrow's research group is neurogenetic disorders, including developmental as well as degenerative disorders. Dr. Morrow's research integrates basic research, translational research, and patient-oriented studies in the areas of human neurodevelopmental disorders, genetics/genomics, and mechanisms in cell biology, including in human stem cell models (induced pluripotent stem cells).
Applications include a cover letter, current curriculum vitae, and names and contact information for three references. Brown University is an EEO/AA employer and encourages applications from minorities and women. Review of applications will begin immediately and will continue on a rolling basis until the position is filled or the search is closed. Please apply via Interfolio (link above). More information can be obtained from Eric Morrow, MD, PhD via email at eric_morrow@brown.edu.
***********************************************************************************************************************************************
Postdoctoral Research Associate in Molecular Mechanisms of Learning and Memory
Applications are invited for a postdoctoral position in the lab of Dr. Cristina Alberini, in the Center for Neural Science at New York University. The position is part of a large project that investigates molecular mechanisms of long-term memory formation and enhancement and applies the gained knowledge to models of memory impairments.
The studies will use a multi-level approach across developmental ages in mice and rats, including models of diseases.
Salary will be commensurate with research experience and based on the NIH guidelines for postdoctoral research associates, trainees and fellows.
A PhD in Neuroscience, Biology or associated area is preferred. Experience in molecular techniques and animal behavior is strongly preferred.
Prospective applicants can apply for this position using the following link: apply.interfolio.com/54135
Please also send your application to Cristina Alberini at ca60@nyu.edu
***********************************************************************************************************************************************
DOCTORS WITHOUT BORDERS – URGENT NEED > Clinical Psychologists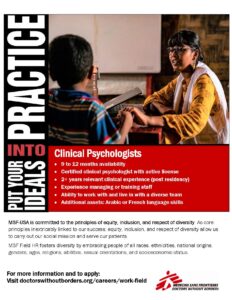 ***********************************************************************************************************************************************
A postdoctoral fellow position is available immediately in the laboratory of Dr. Bruce Carter in the Vanderbilt Brain Institute and Department of Biochemistry at Vanderbilt University in Nashville, TN. Our laboratory studies the mechanisms regulating the development of the mammalian peripheral nervous system. The project involves investigating the mechanisms by which Schwann cells and satellite glia influence neuronal activity and survival and how disruption of glial cell function leads to peripheral neuropathy. This work will have important clinical implications for developing therapies for Charcot Marie Tooth (CMT) disease, the most common hereditary neuropathy, affecting ~1 in 2500 people. It is a slowly progressive, debilitating disease causing loss of motor function and sensation and is often associated with chronic pain. The candidate should have a PhD with experience in neuroscience and/or cell biology and at least one first-author paper in a peer-reviewed journal. Good oral and written communication skills in English are required.
Salary will be commensurate with NIH guidelines
Applicants should send a cover letter, CV and the names/contact information for 3 references by email to: bruce.carter@vanderbilt.edu
For more information, go to: https://www.brucecarterlab.com/
*******************************************************************************************************************
Assistant Professor, Spatial Neuroscience and Cognition-Department of Psychological & Brain Sciences
POSITION OVERVIEW
Percent time: 100%
Anticipated start: July 1, 2023
APPLICATION WINDOW
Open date: October 5, 2022
Next review date: Thursday, Dec 1, 2022 at 11:59pm (Pacific Time)
Apply by this date to ensure full consideration by the committee.
Final date: Friday, Jun 30, 2023 at 11:59pm (Pacific Time)
Applications will continue to be accepted until this date, but those received after the review date will only be considered if the position has not yet been filled.
POSITION DESCRIPTION
The Department of Psychological and Brain Sciences at the University of California, Santa Barbara invites applications for a tenure-track faculty position in Spatial Neuroscience and Cognition at the level of Assistant Professor, with an anticipated start date of July 1, 2023. The Department is looking for individuals trained in the neuroscience of spatial cognition who will do innovative work investigating the neural processing of spatial perception, learning, memory, and navigation, broadly defined. Potential research approaches include: electrophysiological or optical neural recordings, optogenetic/chemogenetic perturbations, neuroimaging methods, and studies in real and virtual environments to study the neural mechanisms underlying spatial cognition in either animal models or humans. Research areas include the neural processing of spatial percepts and spatial memory, including how individuals learn new environments, orient themselves using spatial cues, find their way to specific locations, form abstract spatial representations such as maps, and how these types of processes go awry in neuropsychological conditions. We seek colleagues who are committed to open science practices and whose work would synergize with existing research programs in the department. The candidate would be expected to teach courses in their area of expertise, as well as contributing to foundational undergraduate and graduate-level teaching.
The Department of Psychological & Brain Sciences conducts cutting-edge research in core areas of psychology: Neuroscience and Behavior, Cognition, Perception and Cognitive Neuroscience, Social Psychology and Developmental and Evolutionary Psychology. The department is in a period of growth, having hired 7 faculty in the past 5 years. The department's commitment to interdisciplinary pursuits is reflected in expansive research and teaching collaborations with a variety of other disciplines. For example, faculty in the Department are affiliated with the Neuroscience Research Institute, Dynamical Neuroscience graduate program, the Cognitive Science Emphasis, Mellichamp Mind and Machine Initiative, Anthropology, Communication, Education, Geography, and Molecular Cellular and Marine Biology. UCSB provides a lively intellectual environment that prizes academic rigor, interdisciplinarity and creativity to generate discoveries with wide-ranging impact.
Responsibilities of faculty members generally include the development of an actively funded research program of the highest quality, teaching at graduate and/or undergraduate levels, recruitment, supervision, and mentorship of graduate students, and participation in university service and professional activities. The University is especially interested in candidates who can contribute to the excellence and diversity of the academic community through research, teaching, and service as appropriate to the position. Diversity, equity, and inclusion are among the university's core values, and we look forward to welcoming ambitious and creative colleagues who will contribute to the university's mission.
Department: https://psych.ucsb.edu/
QUALIFICATIONS
Basic qualifications (required at time of application)
Applicants must have completed all requirements for a PhD (or equivalent) except the dissertation in Psychological & Brain Sciences or a related field at the application.
Additional qualifications (required at time of start)
PhD (or equivalent) should be conferred by anticipated appointment start date (July 1, 2023).
Preferred qualifications
· A demonstrated record of excellence in research and a record of (or potential for) excellence in teaching.
· Expertise and training in spatial neuroscience and cognition.
APPLICATION REQUIREMENTS
Document requirements
Curriculum Vitae – Your most recently updated C.V.
Cover Letter – Please discuss anticipated conferral date of PhD.
Statement of Research – Please describe research experience and interests, highlighting major contributions to the field thus far as well as areas to be investigated in future work. This statement may also include information about the candidate's open science practices, possible areas of collaboration within the department or campus, and the potential for sustained impact of the research (3 pages max)
Statement of Teaching – Please describe teaching experience and interests, highlighting courses taught and/or planned, and teaching approaches and practices (e.g., lecturing style, assessment choices, statistical platforms used) adopted or likely to be adopted in these courses. This statement may also include a description of mentoring experience and interests (3 pages max)
(Optional)
Statement of Contributions to Diversity – Please describe how your scholarship, teaching and mentoring, and/or service and engagement contribute to diversity, equity, and inclusion. In this statement, describe any steps you have taken (or are planning to take) to foster an inclusive intellectual environment in your lab, in the classroom, in the department and on campus, and/or in your field more generally (3 pages max).
Representative Publication #1
Representative Publication #2
Representative Publication #3
Reference requirements
3 letters of reference required
Applicants should provide the names and contact information for 3 references and must request letters of reference within the system in order to complete application requirements.
Apply link: https://recruit.ap.ucsb.edu/JPF02310
Help contact: pamelawilks@ucsb.edu
CAMPUS INFORMATION
The University of California is an Equal Opportunity/Affirmative Action Employer. All qualified applicants will receive consideration for employment without regard to race, color, religion, sex, sexual orientation, gender identity, national origin, disability status, protected veteran status, or any other characteristic protected by law.
As a condition of employment, you will be required to comply with the University of California SARS-CoV-2 (COVID-19) Vaccination Program Policy: https://policy.ucop.edu/doc/5000695/SARS-CoV-2_Covid-19. All Covered Individuals under the policy must provide proof of Full Vaccination or, if applicable, submit a request for Exception (based on Medical Exemption, Disability, and/or Religious Objection) or Deferral (based on pregnancy) no later than the applicable deadline. Please refer to Appendix F, Section II.C. of the policy for the deadlines applicable to new University of California employees. (Capitalized terms in this paragraph are defined in the policy.) Federal, state, or local public health directives may impose additional requirements.
Job Location: Santa Barbara, CA
*******************************************************************************************************************
UNIVERSITY OF ALABAMA AT BIRMINGHAM (UAB):
The UAB Department of Psychology invites applications for one or two tenure-track positions at the level of Assistant Professor to begin in August 2023. Priority research areas include but are not limited to behavioral and cognitive neuroscience with a basic or applied research focus on health topics such as addiction, aging, social foundations of health, health disparities, and diversity research. The department also values cross-cutting approaches that build on the strengths of our existing program areas and add to interdisciplinary initiatives at UAB. The successful candidate is expected to have a strong record of research productivity and a plan to develop an active, independent program of research. Review of applications will begin immediately and will continue until the position is filled.
The Department of Psychology has excellent research facilities, a long history of extramural research funding, and competitive startup packages. The Department houses a large undergraduate major in Psychology and an interdisciplinary Undergraduate Neuroscience Program, as well as three doctoral programs in Behavioral Neuroscience, Developmental Psychology, and Medical/Clinical Psychology (APA accredited). We are seeking applicants with a commitment to mentoring and teaching at both undergraduate and graduate levels. Psychology at UAB has an exceptionally strong culture of interdisciplinary and trans-departmental collaborations. Various interdisciplinary research centers and institutes at UAB focus on specific areas of interest, including the Comprehensive Neuroscience Center, Advanced Imaging Facility, Civitan International Research Center, Integrative Center for Aging Research, Minority Health and Health Disparities Research Center, Center for Addiction and Pain Prevention and Intervention, and the Nutrition and Obesity Research Center. UAB is one of 42 institutions with an NIH Clinical and Translational Science Award, which supports translational research and creates a supportive environment that promotes junior investigators. UAB employs over 2,600 full-time faculty members and serves a diverse student body of more than 13,000 undergraduate and 7,500 graduate students. UAB employs over 2,600 full-time faculty members and serves a diverse student body of more than 13,000 undergraduate and 7,500 graduate students. UAB ranks in the top 15 public universities for federal research funding, was named America's No. 1 Best Large Employer by Forbes and America's No. 4 Best Employer for Diversity (2021). UAB has also been the recipient of multiple national awards for its commitment to diversity and inclusion. Birmingham is the third largest city in Alabama, offering a vibrant and diverse cultural community with a wide array of recreational opportunities.
Required Qualifications: PhD in Psychology or related field by August 2023 and a clear plan to develop an active, independent program of research.
Preferred Qualifications: Appropriateness as a mentor to students across multiple Psychology graduate programs. Evidence of ability to attract, teach, and mentor diverse graduate and undergraduate students.
Applications should be submitted online through the PeopleAdmin system, https://uab.peopleadmin.com/postings/16882 and include:
1) Cover letter
2) CV
3) Research Statement
4) Teaching Statement
5) Contribution to Diversity and Inclusion Statement
6) Up to three Reprints or Preprints that convey research interests and expertise
7) Names and contact information for three references
The College of Arts and Sciences (CAS) treasures the rich diversity of our student body and is committed to student success. Members of the CAS community are expected to reflect our value for inclusive excellence in both our work and learning environment as well as in our efforts to serve and engage the community. Questions about these positions should be directed to the Chair of the Search Committee, Dr. Robert Sorge, Associate Professor, Department of Psychology, rsorge@uab.edu.