Job opportunities
Oberlin College and Conservatory
The neuroscience department at Oberlin college has a tenure track position in neurodevelopment. Please click the link below for more information.
https://jobs.oberlin.edu/postings/10986
***********************************************************************************************************************************************
MILKEN INSTITUTE
Hello,
I am writing to share a unique opportunity for research funding, with the hope that you can share it with relevant researchers at your institution.
The Milken Institute, in collaboration with The REAM Foundation, is administering a grant program focused on misophonia. The Misophonia Research Fund, established in 2019, has awarded twenty grants, disbursing over $6 million of funding in the past three years. The program supports two-year projects led by either faculty or postdocs with annual budgets of up to $200,000.
We are enthusiastic to share the Request for Proposals to initiate the next funding cycle. The RFP is soliciting research proposals that aim to characterize misophonia, develop objective methods to assess misophonia, or evaluate interventions for misophonia. We are requesting letters of intent by December 10, 2021 and full proposals will be due on March 11, 2022.
Additionally, the Misophonia Research Fund is facilitating a simultaneous call for research proposals specifically seeking to validate one or more tools to assess, identify, and diagnose misophonia. If you or researchers at your institution have additional questions, please visit our website or contact our team at misophonia@milkeninstitute.org.
Misophonia is a disorder of decreased tolerance to specific sounds or stimuli associated with such sounds. These stimuli, known as "triggers," are experienced as unpleasant or distressing and tend to evoke strong negative emotional, physiological, and behavioral responses that are not seen in most other people. Trigger stimuli are often repetitive and primarily, but not exclusively, include stimuli generated by another individual, especially those produced by the human body (such as chewing or sniffing). The expression of misophonic symptoms varies, as does the severity, which ranges from mild to severe impairments. For more information, visit https://www.medrxiv.org/content/10.1101/2021.04.05.21254951v2.
Thank you for your help in spreading the word.
Sincerely,
Cara Altimus, Ph.D.
************************************************************************************************************************************************
Call for applications: Wu Tsai Postdoctoral Fellowships
The Wu Tsai Institute (WTI) is a new neuroscience institute at Yale University that seeks to understand human cognition and explore human potential by establishing an inclusive and interdisciplinary community spanning the biological, psychological, and computational sciences. Wu Tsai Postdoctoral Fellowships are a key part of attracting and fostering the career success of a new generation of integrative scientists.
Our Postdoctoral Fellowships include a generous stipend ($60K starting) for up to 3 years, funds for training, cohort-based professional development and community-building activities, and access to cutting edge facilities at WTI. Applicants are encouraged to indicate their Priority Area of interest (see below), selected for the outstanding interdisciplinary research and inclusive training environments. They may also apply to our open track, eligible for working with ~100 affiliated labs.
Advanced graduate students and recently graduated postdoctoral researchers are welcome to apply. We particularly encourage applications from scientists from backgrounds historically underrepresented in science and/or who have a demonstrated commitment to fostering diversity, equity, and inclusion. International applicants are eligible and welcome to apply.
Deadline: September 30, 2021
Full call for applications and instructions here: https://bit.ly/WTIPostdocFellows
Priority Area A – Uncovering the molecular basis of neuroticism, a fundamental personality trait. Co-Mentors: Kristen Brennand (Psychiatry); Chris Cotsapas (Neurology).
Priority Area B – Learning the language of thought: machine learning to infer spatio-temporal rules of cognition from mesoscopic calcium imaging data. Co-Mentors: Jessica Cardin (Neuroscience); David van Dijk (Internal Medicine and Computer Science).
Priority Area C – Toward the neural bases of cooperative social interactions. Co-Mentors: Steve Chang (Psychology), Monika Jadi (Psychiatry), Anirvan Nandy (Neuroscience).
Priority Area D – The functional genomics of human cognition: from molecular and cellular processes to large-scale brain networks. Co-Mentors: Avram Holmes (Psychology), Nenad Sestan (Neuroscience).
Open Area – We welcome applications for other integrative explorations seeking to understand the mind through an integrated study of brain and behavior. Applicants in this track will be considered for any of the nearly 100 labs affiliated with the WTI. See here for a full list of faculty members affiliated with WTI.
Giovanna Guerrero-Medina PhD
She/Her/Ella
Assistant Director for Diversity Equity &  Inclusion, Wu Tsai Institute at Yale
giovanna.guerrero-medina@yale.edu
203.785.2915 (office), 616.643.7666 (cell)
wti.yale.edu
*******************************************************************************************************************************************************************************************
Outside Job Opportunity
TENURE TRACK FACULTY POSITION in NEUROSCIENCE
The Department of Neurobiology & Anatomy at the University of Utah (http://www.neuro.utah.edu/ ) is seeking applications for a tenure track faculty position to lead a research team with a focus on addressing mechanisms of brain function while fostering an inclusive research environment. The department is vibrant and growing, with an emphasis on collegiality and collaboration. Areas of expertise in the department range from neurogenetics and developmental biology to circuit neuroscience and behavior. We are interested in candidates who use multidisciplinary approaches to understand brain function in health and disease. Areas of particular interest include neurodegeneration and disorders associated with aging, but all areas of neuroscience will be considered.
The department is strongly committed to advancing diversity, equity and inclusion both at the university and in neuroscience more generally. A demonstrated commitment to these principles will feature prominently in the selection process. All candidates are urged to put their best effort into crafting the diversity statement required for this application (for guidance see application home page).
Additionally, to mitigate the effects of unconscious bias and ensure equitable consideration of all applicants, review of applications will be conducted in a partially anonymous way. To enable this approach, applicants are required to submit an anonymized summary of their past research accomplishments and future plans in addition to the standard application materials (for guidance see application home page).
Individuals must have a Ph.D. and/or M.D., or equivalent degrees at any rank, with two or more years of postdoctoral experience. Applicants should demonstrate excellence in research with strong potential for securing and sustaining independent extramural funding. The department offers excellent resources to support new faculty, including competitive salary and start-up support, newly renovated research space, active faculty mentoring, core facilities, interdepartmental graduate training programs, and a collegial research environment, with a growing focus on neuroscience research across campus. A successful applicant will be expected to develop an innovative, independent research program, and share our commitment to equity, diversity and inclusion as well as excellence in graduate and medical education.
For full consideration, applications should be received by October 17, 2021. Only electronic applications will be accepted, and should include 1) cover letter, 2) 1 page anonymized past and future research summary, 3) 1 page diversity statement, 4) curriculum vitae, 5) 3-4 page research statement, and 6) three reference letters. To apply please go to https://utah.peopleadmin.com/postings/121056
The University of Utah is an Affirmative Action/Equal Opportunity employer and does not discriminate based upon race, national origin, color, religion, sex, age, sexual orientation, gender identity/expression, disability, or status as a Protected Veteran. Upon request, reasonable accommodations in the application process will be provided to individuals with disabilities. To inquire about the University's nondiscrimination policy or to request disability accommodation, please contact: Director, Office of Equal Opportunity and Affirmative Action, 201 S. Presidents Circle, Rm 135, (801) 581-8365.
If you have any questions please feel free to contact: Neha Kushan, Department Manager neha.kushan@neuro.utah.edu.
Brown University
Laboratories for Molecular Medicine
70 Ship Street, Box G-E4
Providence, RI 02912
Postdoctoral Fellowship: Molecular and Cellular Neuroscience of Disease
Location: Laboratory of Eric Morrow MD PhD, Brown University Campus – 70 Ship Street, Providence RI
Department: Molecular Biology, Cell Biology & Biochemistry; Center for Translational Neuroscience, Carney Institute for Brain Science
Apply Here: https://apply.interfolio.com/63107
The Morrow Lab seeks a highly motivated postdoctoral research associate/fellow with experience in molecular and cellular neuroscience. This position will focus on research involving molecular and cellular mechanisms of neurodevelopmental and/or neurodegenerative disease.
Candidates with a strong training and background in molecular and cell biology, biochemistry, genetics, and ideally in vivo neuroscience are desired.
The laboratory PI, Eric Morrow MD PhD, is the Director of the Brown University Center for Translational Neuroscience in the Carney Institute for Brain Science and the Brown Institute for Translational Science. The Morrow Lab and the Center for Translational Neuroscience is housed in a collaborative and multi-disciplinary Laboratories for Molecular Medicine at Brown University in Providence, Rhode Island.
The research focus of Dr. Morrow's research group is neurogenetic disorders, including developmental as well as degenerative disorders. Dr. Morrow's research integrates basic research, translational research, and patient-oriented studies in the areas of human neurodevelopmental disorders, genetics/genomics, and mechanisms in cell biology, including in human stem cell models (induced pluripotent stem cells).
Applications include a cover letter, current curriculum vitae, and names and contact information for three references. Brown University is an EEO/AA employer and encourages applications from minorities and women. Review of applications will begin immediately and will continue on a rolling basis until the position is filled or the search is closed. Please apply via Interfolio (link above). More information can be obtained from Eric Morrow, MD, PhD via email at eric_morrow@brown.edu.
Posted: August 2nd, 2021
***************************************************************************************************************************************************The Hardaway Lab in the Department of Psychiatry and Behavioral Neurobiology at the University of Alabama at Birmingham is recruiting a postdoctoral scholar to work at the interface of neural circuits, emotional processing, reward, and glycemic control. The ideal candidate should be an invested and motivated scientist who functions optimally in team-based science that integrates efforts from graduate students, undergraduates, and laboratory staff. Funding for this position is guaranteed for 2 years and renewable upon receipt of external funding (T32, F32, or private fellowships). Desirable laboratory skills include python fluency, slice electrophysiology, animal behavior and genetics, traditional biochemistry (western blots, immunoprecipitation), behavioral pharmacology, in vivo Ca2+ imaging, and computational neuroscience.
Interested candidates can expect my best efforts as a mentor, that I will advocate for them within my scientific spheres and help them realize their professional goals. I will invest in you regardless of your professional path: academic or otherwise.
Please contact andrewhardaway@uabmc.edu with your CV and research interests.
thank you,
Andrew Hardaway
Assistant Professor
Department of Psychiatry and Behavioral Neurobiology
Office Phone: 205-996-9372
Sparks Center 865
1720 7th Ave S
Birmingham, AL 35294
Pronouns: he/him/his
************************************************************************************
Postdoctoral Research Associate in Molecular Mechanisms of Learning and Memory
Applications are invited for a postdoctoral position in the lab of Dr. Cristina Alberini, in the Center for Neural Science at New York University. The position is part of a large project that investigates molecular mechanisms of long-term memory formation and enhancement and applies the gained knowledge to models of memory impairments.
The studies will use a multi-level approach across developmental ages in mice and rats, including models of diseases.
Salary will be commensurate with research experience and based on the NIH guidelines for postdoctoral research associates, trainees and fellows.
A PhD in Neuroscience, Biology or associated area is preferred. Experience in molecular techniques and animal behavior is strongly preferred.
Prospective applicants can apply for this position using the following link: apply.interfolio.com/54135
Please also send your application to Cristina Alberini at ca60@nyu.edu
*************************************************************************************DOCTORS WITHOUT BORDERS – URGENT NEED > Clinical Psychologists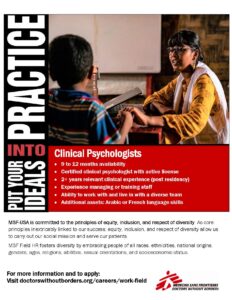 ************************************************************************************
A postdoctoral fellow position is available immediately in the laboratory of Dr. Bruce Carter in the Vanderbilt Brain Institute and Department of Biochemistry at Vanderbilt University in Nashville, TN. Our laboratory studies the mechanisms regulating the development of the mammalian peripheral nervous system. The project involves investigating the mechanisms by which Schwann cells and satellite glia influence neuronal activity and survival and how disruption of glial cell function leads to peripheral neuropathy. This work will have important clinical implications for developing therapies for Charcot Marie Tooth (CMT) disease, the most common hereditary neuropathy, affecting ~1 in 2500 people. It is a slowly progressive, debilitating disease causing loss of motor function and sensation and is often associated with chronic pain. The candidate should have a PhD with experience in neuroscience and/or cell biology and at least one first-author paper in a peer-reviewed journal. Good oral and written communication skills in English are required.
Salary will be commensurate with NIH guidelines
Applicants should send a cover letter, CV and the names/contact information for 3 references by email to: bruce.carter@vanderbilt.edu
For more information, go to: https://www.brucecarterlab.com/
************************************************************************************************************************************************
We are looking for someone interested in working on a collaborative VU/VUMC DARPA-funded project investigating primary responses of brain neurons and glia to neurotrauma using multiple cell and animal models and advanced microscopy imaging techniques. This position will begin on July 1st, 2021. Interested individuals should contact Dr. Mahadevan-Jansen at anita.mahadevan-jansen@vanderbilt.edu.
Thank you,
Tonia
Tonia S. Rex, Ph.D.
Marlene and Spencer Hays Director in Translational Vision Research
Professor of Ophthalmology & Visual Sciences
Associate Vice Chair for Translational Research
Vanderbilt Eye Institute
Vanderbilt University Medical Center
Vanderbilt University School of Medicine
1161 21st Ave. South
AA7100 MCN
615-936-2120
******************************************************************************************************************************************
Lecturer or Assistant Professor (outside the tenure structure) of Biology (Neuroscience)
The Department of Biology and Program in Neuroscience in the School of Arts and Sciences at Brandeis University invite applications for a full-time Lecturer position beginning in academic year 2021-2022. The Lecturer will join Brandeis University's strong group of professional science Teaching Faculty, who regularly meet and interact to discuss pedagogy and science education techniques. Brandeis has a world-class Program in Neuroscience with about 25 research labs, 50 graduate students, and 180 undergraduate majors. The Lecturer will receive mentoring and support from Teaching and Research Faculty and the University's Center for Teaching and Learning.
Duties include teaching five Neuroscience and Biology courses per academic year. This position is renewable, with an initial appointment of up to three years, contingent on a positive performance review after the first year. In the first year, there is a four-course load to include time for course development, and assuming that the courses taught are the following: Principles of Neuroscience (NBIO 140B, Fall 2021 and Spring 2022), Biostatistics (BIOL 51A, Fall) and a to-be-developed Neurobiology lab course (Spring). The position will also involve service, including supervising Teaching Assistants, advising Neuroscience students, and other Program service as the need arises.
Candidates must have completed a PhD in Neuroscience or a related field at the time of application, and have strong quantitative skills and a proven teaching record. Applicants should submit a cover letter, curriculum vitae, and a teaching statement. In addition to these materials, the applicant should have three letters of recommendation submitted on their behalf. Brandeis University is committed to advancing diversity, equity, and inclusion in all areas of faculty effort, including scholarship, instruction, and service. Applicants should address at least one of these areas of faculty effort in their cover letter or in a separate statement indicating how their experiences, interests, commitments, or future goals could promote and build departmental and institutional pluralism, justice, and unity.
Only online applications will be accepted. Application materials should be uploaded to AcademicJobsOnline at https://academicjobsonline.org/ajo/jobs/18378  First consideration will be given to applications received by May 15, 2021 but applications arriving within 30 days of this date will be given full consideration. Questions about the position can be directed to the chair of the search: Stephen Van Hooser (vanhoosr@brandeis.edu).
At Brandeis, we believe that diversity, equity, and inclusion are essential components of academic excellence. Brandeis University is an affirmative action, equal opportunity employer that is committed to creating equitable access and opportunities for applicants to all employment positions. Because diversity, equity, and inclusion are at the core of Brandeis' history and mission, we value and are seeking candidates with a variety of social identities, including those that have been underrepresented in higher education, who possess skills that spark innovation, and who, through their scholarly pursuits, teaching, and/or service experiences, bring expertise in building, engaging and sustaining a pluralistic, unified, and just campus community.

********************************************************************************************************************
Open Post-doctoral fellow position in Neuroscience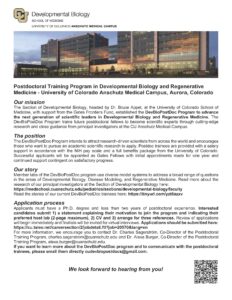 ********************************************************************************************************************
Augusta University, GA, USA
We are inviting talented researchers with PhD or MD degree to apply as post-doctoral fellows to our NIH funded laboratory at the Dept. Neuroscience & Regenerative Medicine of Augusta University in the historic town of Augusta, GA. Main focus of the research in the laboratory of Dr. Deak is cognitive impairment with aging and various neurological disorders, for instance Alzheimer's disease and epileptic encephalopathy. State-of-the-art methods are used to develop new models of these disorders and to study possible new therapeutic targets from the molecular to cellular and neuronal network levels. Best approaches are validated in behavioral assays using transgenic rodent models. We are a well established team with multiple collaborations both locally and inter/nationally. Expertise in electrophysiology is preferred.
Please send CV, application letter with goals and motivation (max. 2 pages) and names of three references as a single pdf file to Dr Deak (fdeak@augusta.edu). If you have reference letters in hand, please send copies of those, too.
********************************************************************************************************************
Postdoctoral Position at Boston Children's Hospital
Mustafa Sahin, MD, PhD
Professor of Neurology
Director, Translational Neuroscience Center
Director, Translational Research Program
Rosamund Stone Zander Chair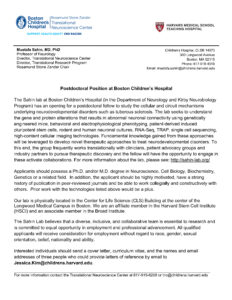 ********************************************************************************************************************
Thomas Lab Research Positions
The Thomas lab has several research positions open to senior PhD students, postdocs and other researchers holding PhDs in neuroscience or related fields.  These positions are for taking the lead on projects in the lab that examine neuromodulatory signaling in cognition, with an emphasis on learning and memory in the hippocampus.  Results from these studies will enhance our understanding of how memory is affected by acute stress, by neurodegenerative diseases such as Alzheimer's and Parkinson's, and by neuropsychiatric disorders that include post-traumatic stress and depression, as well as inform potential therapeutic avenues in these areas.  Toward these goals, the lab utilizes mouse genetics, neuropharmacology, chemo- and optogenetics, viral transduction, electrophysiology, imaging and biochemical approaches.
If interested, please send your CV and brief statement of interest to:
Steven A. Thomas, MD, PhD
Associate Professor
Department of Systems Pharmacology and Translational Therapeutics
Neuroscience Graduate Group
University of Pennsylvania
103 John Morgan Building
3620 Hamilton Walk
Philadelphia, PA  19104-6084
Office:  215-573-4950
Lab:  215-573-4951
Fax:  215-573-0838
https://www.med.upenn.edu/apps/faculty/index.php/g310/c1464/p18120
********************************************************************************************************************