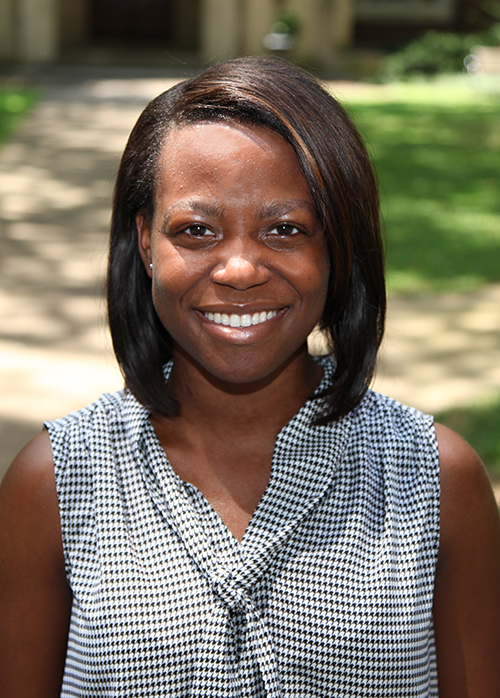 Kristin A. Kwakwa
Graduate Student, Sterling Lab

---
Research Description:
Kristin is working on her thesis project targeting the transcription factor Gli2 in tumor-induced bone disease. She investigated physical and cellular interactions between tumors and the bone microenvironment using molecular, engineering, and pre-clinical models. Specifically, she is utilizing bone-mimetic scaffolds along with mouse models to investigate how the three-dimensional architecture of bone regulates osteolytic gene expression in patient-derived tumor cells. In addition, she is examining the effects of nanoparticle targeted therapeutic inhibitors to Gli2 that the laboratory has previously established as a critical factor for tumors to invade the bone microenvironment. This research will help establish new therapeutic approaches for treating patients with tumors that have invaded or metastasized to the bone. As this is a common occurrence in patients with metastatic breast, lung, prostate, and renal cancer as well as invasive tumors such as multiple myeloma, melanoma, and oral cancer, this research has a high potential to make a strong improvement in patient mortality and quality of life.
Publications:
Kwakwa KA, Sterling JA. (2017) "Integrin αvβ3 Signaling in Tumor-Induced Bone Disease." Cancers (Basel) 9(7): 84. PMCID: PMC5532620.
Kwakwa KA, Vanderburgh JP, Guelcher SA, Sterling JA. (2017) "Engineering 3D Models of Tumors and Bone to Understand Tumor-Induced Bone Disease and Improve Treatments." Curr. Osteoporos. Rep. 15(4): 247-254.
Gainey SJ, Kwakwa KA, Bray JK, Pillote MM, Tir VL, Towers AE, Freund GG. (2016) "Short-Term High-Fat Diet (HFD) Induced Anxiety-Like Behaviors and Cognitive Impairment Are Improved with Treatment by Glyburide." Front. Behav. Neurosci. 10: 156. PMCID: PMC4980396.
Moon ML, Joesting JJ, Lawson MA, Chiu GS, Blevins NA, Kwakwa KA, Freund GG. (2014) "The Saturated Fatty Acid, Palmitic Acid, Induces Anxiety-Like Behavior in Mice." Metab. Clin. Exp. 63(9): 1131-1140. PMCID: PMC4151238.
Chiu GS, Darmody PT, Walsh JP, Moon ML, Kwakwa KA, Bray JK, McCusker RH, Freund GG. (2014) "Adenosine Through the A2A Adenosine Receptor Increases IL-1β in the Brain Contributing to Anxiety." Brain Behav. Immun. 41:218-231. PMCID: PMC4167209.
Kaczmarczyk MM, Machaj AS, Chiu GS, Lawson MA, Gainey SJ, York JM, Meling DD, Martin SA, Kwakwa KA, Newman AF, Woods JA, Kelley KW, Wang Y, Miller MJ, Freund GG. (2013) "Methylphenidate Prevents High-Fat Diet (HFD)-Induced Learning/Memory Impairment in Juvenile Mice." Psychoneuroendocrinology. 38(9): 1553-1564. PMCID: PMC3659210.
---