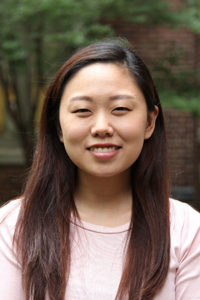 Laura Kim
Graduate Student, Chen Lab

---
Research Description:
Laura's project is to elucidate the role of mTOR signaling in lung cancer.
​Publications:
Kim LC, Cook RS, Chen J. mTORC1 and mTORC2 in cancer and the tumor microenvironment. Oncogene. 2017 Apr 20;36(16):2191-2201. PMCID: PMC5393956.
Youngblood VM, Kim LC, Edwards DN, Hwang Y, Santapuram PR, Stirdivant SM, Lu P, Ye F, Brantley-Sieders DM, Chen J. The Ephrin-A1/EPHA2 Signaling Axis Regulates Glutamine Metabolism in HER2-Positive Breast Cancer. Cancer Res. 2016 Apr 1;76(7):1825-36. PMCID: PMC4873477.
Edwards, D. N., Ngwa, V. M., Wang, S., Shiuan, E., Brantley-Sieders, D. M., Kim, L. C., Reynolds, A. B., and J. Chen (2017) The receptor tyrosine kinase EphA2 promotes cancer glutamine metabolism by activating the transcriptional co-activators YAP and TAZ. Sci Signal. 10:eaan4667. PCMID: 29208682
---