Graduate Student Critical Conversations Series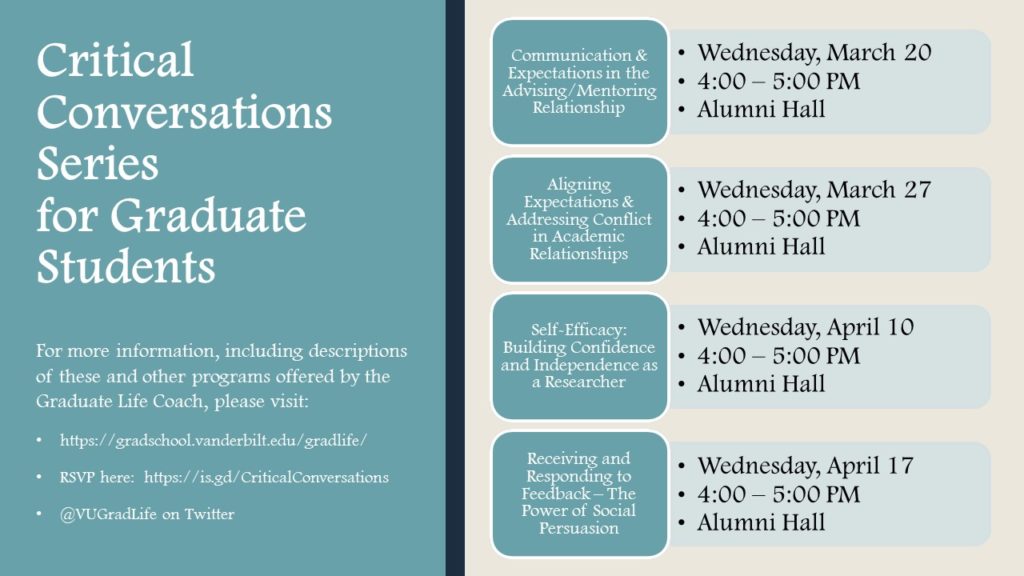 Critical Conversations Series for Graduate Students
These programs are most suitable for students in PhD programs but are open to all Graduate School students.
These sessions will be held on the Wednesdays noted below, from 4:00 – 5:00 PM in Alumni Hall.
Please RSVP as specific room location will be based on number of attendees.
Communication & Expectations in the Advising/Mentoring Relationship (March 20)
Maintaining a positive relationship with your research mentor is very important and can be achieved through frequent, open and candid communication – including establishing clear expectations and boundaries.  This session will focus on how to establish an open line of communication with your mentor in order to address any differences and align your expectations, in addition to focusing on strategies for improving communication (in person, at a distance, across multiple mentors, and within proper personal boundaries).  We will also discuss the importance of establishing a mentoring and support network.
Aligning Expectations & Addressing Conflict in Academic Relationships (March 27)
We will discuss strategies for working through conflicts in academic relationships, particularly your mentoring/advising relationships, including on campus resources and processes for working through these situations.
Self-Efficacy: Building Confidence and Independence as a Researcher (April 10)
Self-efficacy is a belief one has in his/her ability to successfully complete a given goal or task. In other words it is situation specific self-confidence.  We will discuss the sources of self-efficacy and strategies for building your research confidence and independence.
Receiving and Responding to Feedback – The Power of Social Persuasion (April 17)
In this session, we will work to (1) Identify the intent behind statements and questions, (2)  understand the role of constructive feedback and improve communication between trainees and their mentors, (3)  Assess the influence that mentors have on their confidence in their abilities and (4)  Devise strategies to cope with and respond to feedback that negatively influences their confidence.
Sponsored by the Graduate Life Coach and the Graduate School. Learn more about all programming by the Graduate Life Coach here.