Seeking Grad Students to Pilot Discovery Diagnosis Online Course
We are looking for students to help pilot new, entireing online courses on topics related to drug discovery and development. We are particularly interested in recruiting students who are graduate, medical, or advanced undergraduate students. The current course pilots are listed below. More information can be found at the Drug Discovery Online website (https://vanderbilt.edu/drugdiscovery/courses/).
Students who wish to participate should complete the interest survey as soon as possible!
Registration starts next week (7/8). You must be a Vanderbilt University student to participate and be over 18-years old. All non-VU students will be removed from the course.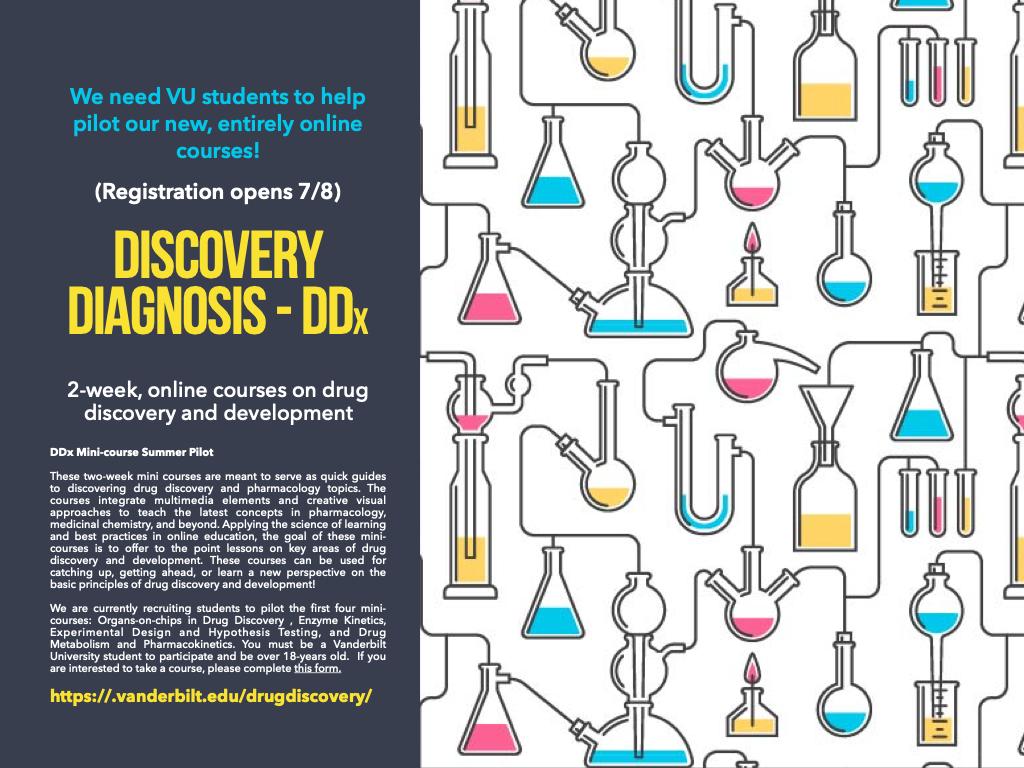 Enzyme Kinetics
Peter Guengerich
Biochemistry Department, Professor of Biochemistry, Tadashi Inagami Chair in Biochemistry
Enzyme kinetics is a central component to understanding pharmacology and drug discovery. F. Peter Guengerich is the Tadashi Inagami Professor of Biochemistry at Vanderbilt University School of Medicine. He has been the Associate Editor for The Journal of Biological Chemistry since 2006. As the instructor for this course, Dr. Guengerich offers rich expertise in the field of enzyme kinetics. The overall learning goal of this DDx course is to provide a basic introduction to the critical components of enzyme kinetics. The overall course objectives include the understand the mechanism of drug actions, to know the type of inhibitor and why you would pick on type over another, know the key parameters that you need to use to measure the efficiency of action for a specific target, to discuss the effect that enzymes have on drug degradation, to discuss how enzymes can make drugs more toxic, and finally to know the parameters you need to measure the efficiency of drug metabolism. ***Note: this course is for Vanderbilt University students who have been preapproved to take the course by the online facilitator. All other students will be removed from the course***
Organs-on-chips in Drug Discovery
John Wikswo
Gordon A. Cain University Professor, A.B. Learned Professor of Living State Physics, Director of Vanderbilt Institute for Integrative Biosystems Research and Education, Professor of Biomedical Engineering, Professor of Molecular Physiology and Biophysics, Professor of Physics
An organ-on-a-chip (OOC) is a multi-channel 3-D microfluidic cell culture chip that simulates the activities, mechanics and physiological response of entire organs and organ systems, a type of artificial organ with multiple applications in drug discovery and development. Professor John Wikswo is A. B. Learned Professor of Living Physics, a Gordon A. Cain University Professor, in the department of Biomedical Engineering and Molecular Physiology and Biophysics, and the Director of the Vanderbilt Institute for Integrative Biosystems Research and Education (VIIBRE). For the past 40 years, John Wikswo has worked on measurements and modeling in bioengineering and electrophysiology, initially at the scale of humans and dogs, then with rodents, and more recently at the level of nanoliter bioreactors and individual cells. John Wikswo's research effort focuses on systems biology, primarily from the perspective of organs-on-a-chip and the optimization of automated systems for combined experimental control and inference of quantitative metabolic and signaling models to help us better span the breadth of spatiotemporal scales of systems biology, toxicology, and pharmacokinetics and pharmacodynamics. The goal of this course is to explore the importance of a organs-on-chips and a systems biology perspective in drug discovery and development. The learning objectives for this course are utilizing the online platform to get the most out of the course, understanding the concept of multidimensional phase space, defining organs-on-chips in the context of systems biology, describing the history and complexity of biology and how this relates to drug discovery and development, and finally predicting how organs-on-chips will impact drug discovery in the future. ***Note: this course is for Vanderbilt University students who have been preapproved to take the course by the online facilitator. All other students will be removed from the course***
Experimental Design and Hypothesis Testing
Bruce Damon
Associate Professor of Radiology and Radiological Sciences, Associate Professor of Molecular Physiology and Biophysics
Associate Professor of Biomedical Engineering, Director of the Chemical and Physical Biology Program
At each of the stages of research, scientific rigor and reproducibility are critical, particularly as the financial and ethical stakes rise throughout the drug development and development. Intentional actions are needed to educate the next generation of scientists about principles that contribute to scientific rigor and reproducibility, particularly in the area of drug discovery and development. Bruce Damon is the instructor for this course and is the Associate Professor of Radiology and Radiological Sciences, Molecular Physiology and Biophysics, and Biomedical Engineering. He is the Director of the Chemical and Physical Biology Program. This course will cover the many challenges that face the future of science, including retaining public trust in the scientific process. Through a case-study approach, this course can help educate the next generation of science and build a renewed confidence in scientific inquiry. ***Note: this course is for Vanderbilt University students who have been preapproved to take the course by the online facilitator. All other students will be removed from the course***
Drug Metabolism and Pharmacokinetics
Valerie Kramlinger
Amgen – Department of Pharmacokinetics and Drug Metabolism
This course, taught by a rising star in the pharmaceutical industry, will introduce student to the drug metabolism and pharmacokinetics as it applies to drug discovery and development (DMPK). The course will provide an introduction and overview of ADME (absorption, distribution, metabolism, and elimination). Focus will be on drug distribution and drug elimination concepts, drug absorption, bioavailability, and multiple dosing, and clearing concepts, as well as various case studies. ***Note: this course is for Vanderbilt University students who have been preapproved to take the course by the online facilitator. All other students will be removed from the course***