BioTN-LST Online Job Fair Sat Aug 15, 2020 8:30am-1:30pm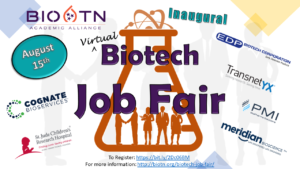 An initiative by the Academic Alliance in Memphis, which has continued to bridge the gap between Academic Institutions and the Biotech Industry in the state of Tennessee.  The inaugural Biotech Job Fair, will create a platform where jobseekers with life science degrees residing currently in the state of Tennessee continue to contribute to the overall growth of the state. It is our hope that the Job Fair becomes a recurring event.
The purpose of the Job Fair is not only to help those looking for career opportunities, but also to become a platform wherein the Industry and the Academic Institutions offering biotech jobs in the state of Tennessee are able to find suitable candidates.
Participating Companies: Cognate Bioservices, St. Jude Children's Research Hospital, Meridian Bioscience, PMI BioPharma Solutions, Transnet YX, and EDP Biotech Corporation.
To register, please visit our Eventbrite page.
The registered participants will receive the link to sign up for one-on-one interviews directly with the HR/Hiring team members of the participating organizations and will also receive a link to upload your Resumes. This link is currently active since yesterday and will remain active until Friday (August 14, 2020) 5 p.m. (CT) or until all the slots are taken up, whichever happens first. Time slots are available on a first come, first served basis. Hurry up!
NOTE: It is not mandatory to sign up to one-on-one interviews! If you do not wish to avail the opportunity to opt for a one-on-one interview with the participating organization, that is still fine. We will share direct contact details of the HR/Hiring teams of each participating organization and you can approach them directly later as well.
The registered participants will also receive the link for the Zoom meeting.
Remember to keep your Resumes/CVs ready!
Should you have any further questions, please reach out to us at jobfair@biotn.org.
JOB FAIR SCHEDULE
When: Saturday, August 15, 2020
Time: 8:30 a.m. – 1:30 p.m. CT
JOB FAIR PROGRAM via ZOOM PLATFORM
8:30 a.m. – 8:45 a.m.: Networking and interactions
8:45 a.m. – 9:00 a.m.: Opening remarks and details about breakout sessions
9:00 a.m. – 11:00 a.m.: Introductions of participating organizations
11:30 a.m. – 1:15 p.m.: One-on-one meetings (individual breakout rooms for interaction between a candidate and an organization)
ADVISORY BOARD
Abby Trotter, Executive Director, BioTN
James Bell, President and Founder, Medical Device Guru, LLC
Chad Riggs, Marketing Associate Technology Licensing, St. Jude Children's Research Hospital
Isaac Rodriguez, Co-Founder & CSO, SweetBio, Inc.
Clifford Froelich, Director QCA, Cognate Bioservices, Inc.
Richard Magid, Vice President, University of Tennessee Research Foundation
ORGANIZERS
President: Giri Kumar Chandaka
Deputy President: Erika Dillard
Visual Communications Director: Laura Hamel
Events and Outreach Director: Geetika Singh
Deputy Events and Outreach Director: Deepa Ganesh
Sponsorship Director: Bindumadhav Marathe
Career Development Director: Kavya Annu
UTHSC Liaison: Rui Wang
St. Jude Liaison: Faten Okda
CBU Liaison: Kiara Macklin, Kristine Truong and Rishi Choden
Rhodes Liaison: Jocelyn Ladomborde
Organizers from Nashville: Connie Litts and Danielle Pyle