Announcing 2021 Call for Yale Ciencia Academy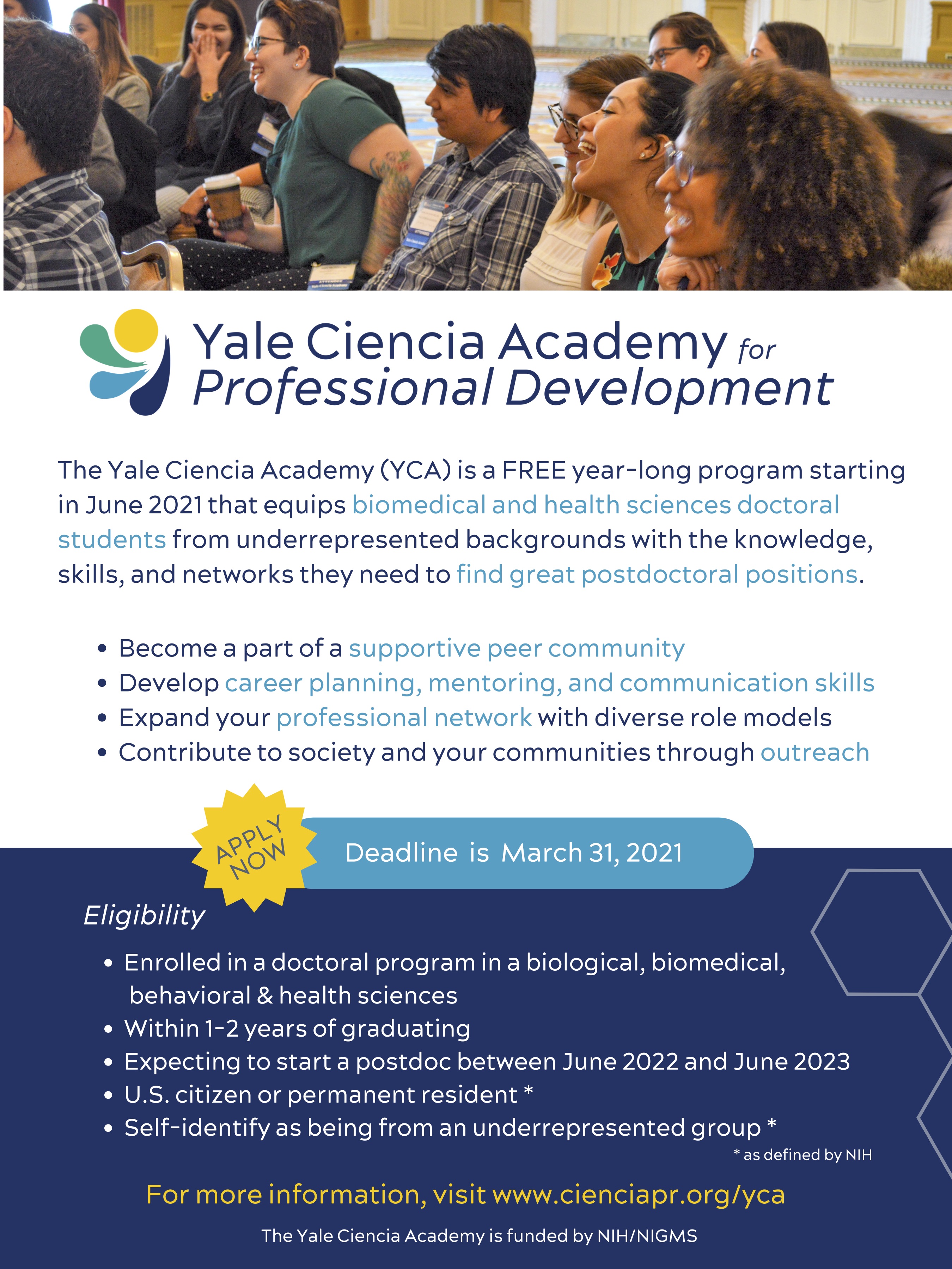 Applications are open for Yale Ciencia Academy (YCA) for Professional Development, an NIH-funded (1R25GM114000) program that equips grad students with the knowledge, skills, and networks to advance their careers and secure great postdoctoral positions aligned with their professional goals.
The program is open to doctoral students in the life and behavioral sciences in the final 1-2 years of their programs who are conducting research in areas funded by the National Institutes of Health. We are particularly interested in reaching students who identify as being from an underrepresented background in science, as defined by the NIH.
Students can expect the following key benefits:
Networking with accomplished scientists, leaders, and peers from diverse backgrounds
Training from leading experts to improve planning, mentoring and communication skills
Personalized materials for the PhD to postdoc transition, including an Individual Postdoc Transition Plan, a list of potential postdoc labs, a well-crafted personal narrative for introductory emails and networking, a peer-reviewed research abstract, and a polished 20-minute scientific talk.
Expert advice and notes from mock postdoc interviews
All-expenses paid travel to Yale for an in-person meeting in June 2022 (2021 meeting converted to virtual format on account of COVID-19)
Joining our YCA alumni network (>200 peers), with access to sample fellowships and professional opportunity announcements
Bringing new resources to their lab and institution through the optional participation of their research advisor in our YCA Advisor Training
YCA collaborates with iBiology and leverages CienciaPR, a large and diverse Latino/Hispanic scientific network.
The application period closes March 31, 2021, and the program runs from June 2021 to June 2022. Application requirements, selection criteria, FAQs, and the application form can be accessed via this link: http://www.cienciapr.org/yca