2021 Women's Health Research Symposium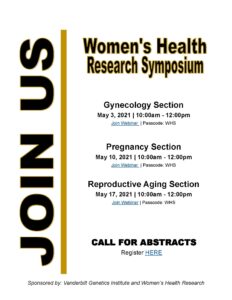 The 2021 Women's Health Research Symposium aims to bring together researchers across various domains to increase collaboration in women's health research. This symposium will be held as a three-part weekly series in May to celebrate Women's Health Month. We have an exciting lineup of speakers that will feature innovative gynecology, pregnancy, and reproductive aging research. We are also accepting abstracts for short oral presentations from trainees. Topics can be on any women's health topic and are not limited to the sections featured in the symposium. For those interested, please register and submit your abstracts at https://forms.gle/8FHDGfxLWocmBBJw9.
Sponsored by the Vanderbilt Genetics Institute and Women's Health Research.