ASPIRE Internship: Science Communication Intern, VI4, PMI, VUMC
ASPIRE Internship Opportunity:

Science Communication Intern, VI4, PMI, VUMC
August- December, 2021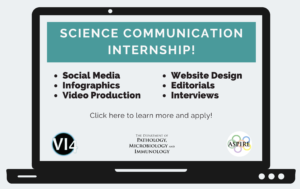 VI4 and PMI at Vanderbilt University Medical Center are looking for Science Communication Interns.
This position provides an opportunity to contribute to VI4's mission of training the next generation of scientists and physicians and making fundamental discoveries in the areas of infection biology, immunology, and inflammation with the goal of increasing knowledge and improving human health. The position will also work within the PMI department goals of excellence in teaching, clinical service, and research.
The interns will work under Karisa Calvitti, Social Media Coordinator for the Vanderbilt Institute for Infection, Immunology & Inflammation (VI4) and the Department of Pathology, Microbiology and Immunology to execute creative communication strategies through both traditional and social media platforms. They will interpret data and design infographics and animations. In addition, the intern team will work together to create content for ImmuKnow+, which aims to incorporate different elements of science communication in one platform.
The ideal candidate must be self-motivated, a team player, results-oriented, and dedicated to the achievement of personal and team goals. This internship requires a candidate with confidence in science communication, excellent writing skills, attention to details, and an interest in science for a variety of audiences. An interest in creative content such as graphic design and video production is a plus.
Click here to learn more about the internship.
RESPONSIBILITIES MAY INCLUDE:
Generate written content, images, and videos on current research and discoveries
Monitor and post on social networks
Curate and report on faculty and trainee publications
Produce engaging content in the VI4/PMI self-serve video studio
Design graphic materials to accompany various communications
Contribute to website design involving basic HTML and CSS coding
Assist in making marketing and creative materials for community outreach programs
INTERNSHIP DETAILS
Internship will run August-December 2021, with the opportunity to extend to next Spring pending review.
Internship is unpaid
Part-time (~10 hours per week), flexible and a mix of on campus and remote work.
Applications due by midnight, Wednesday, July 14, 2021   Extended to 12:00pm, July 30, 2021 
To apply:
Fill out the following ASPIRE Internship Application found here: https://www.surveymonkey.com/r/VI4appFA21
Submit your resume, cover letter (which will show your writing style), and any social media links you manage or own (Twitter, Instagram, websites, etc) to Ashley Brady at ashley.brady@vanderbilt.edu  (Please submit documents as pdfs with your last name_VI4_Fa2021 in the file name and with subject line: ASPIRE Internship: VI4 Sci Comm
Schedule a zoom "advising" meeting with Ashley Brady via https://calendly.com/ashley-brady 
Your information will then be passed along to the host who will contact you directly to schedule an interview.
——————-
Please review ASPIRE Internship FAQs: Found here
​For further questions, please contact Ashley Brady (ashley.brady@vanderbilt.edu).
ASPIRE Internship eligibility requirements
Applicants must be a current Vanderbilt University PhD student or a current postdoctoral fellow.
All PhD students must have completed all coursework for their degree prior to the start of the internship.
Biomedical PhD students must also have passed their qualifying exams before the application deadline.
Students and postdocs may not participate in more than one internship at a time.  More than one application may be submitted at a single time, but only one position can be accepted.
If you are not in a department supported by the BRET office, we will also require that you complete a form guaranteeing PI approval to participate in this program.  Please contact Ashley Brady at ashley.brady@vanderbilt.edu for more information.
If you are an international student or postdoctoral fellow, your visa status may affect your work eligibility. Please contact Ashley Brady (ashley.brady@vanderbilt.edu) to discuss this further.
Must have authorization to work in the US