Our Approach
Vanderbilt University School of Medicine develops outstanding physicians, who are also leaders in health care, by offering a highly-personalized education. Our distinctive Curriculum 2.0 includes an enhanced focus on communication skills, individualized learning plans, and cultural competencies to meet the changing needs of health care.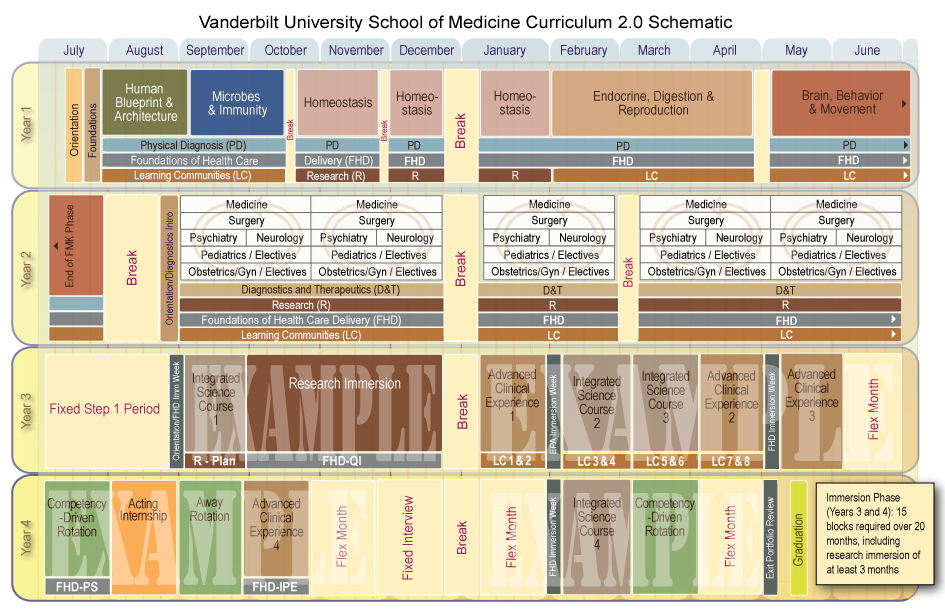 Acknowledging the explosion of information relative to medicine and the pervasive access to multiple information sources, an explicit goal of Curriculum 2.0 is to coach students in how to learn. Medicine is constantly evolving; we believe this is one of its greatest appeals as a career. Ours is a workplace in which every learner works and every worker learns. Curriculum 2.0 is designed to launch our students into a lifelong learning process that will extend well beyond their time on our campus. Vanderbilt graduates will be positioned to assume leadership roles in shaping the future of medicine.
Foundations of Medical Knowledge
The Foundations of Medical Knowledge (FMK) phase of the curriculum provides students a strong foundation in the basic sciences, humanities, and behavioral and social sciences that will support ongoing developmental learning over ensuing years. All students participate in meaningful clinical work during this phase to initiate their development as professionals, to provide clinical relevance for the foundational course work, and to provide an early understanding of health care systems.
Learn more about Foundations of Medical Knowledge
Foundations of Clinical Care
The Foundations of Clinical Care (FCC) phase provides a strong foundation in clinical care delivery, including core clerkships, clinical electives, and longitudinal programs to support the development of clinical skills and clinical reasoning.
Learn more about Foundations of Clinical Care
Immersion
The Immersion phase is a highly individualized experience that allows each student to create a schedule that optimally meets core educational needs, strengthens all competency domains, and builds specialized skill sets aligned with the student's future clinical and scholarly trajectory.
Immersion courses will solidify clinical skills; deepen foundational science knowledge through meaningful clinical engagement; allow students to dive into areas of personal learning needs and/or interest; expand knowledge and skills in leadership and scholarship; ensure readiness for residency; and enhance workplace learning skills. Students will select from a broad menu of courses including Integrated Science Courses, Advanced Clinical Experiences, Acting Internships and Advanced Electives. During a portion of the immersion phase, students will participate in a three- to six-month mentored research experience, tailored around each student's particular research and clinical interests. The longitudinal curricular elements of Foundations of Healthcare Delivery and Learning Communities will remain integral to student development during the Immersion phase.
Vanderbilt Core Clinical Curriculum
The Vanderbilt School of Medicine has established a list of priority 25 presenting problems that comprise the Vanderbilt Core Clinical Curriculum (VC3). The 25 topics are not all a student must learn, but do represent problems that everyone should know. A set of learning objectives exists for each presenting problem.
Learn more about Vanderbilt Core Clinical Curriculum
Foundations of Health Care Delivery
Foundations of Health Care Delivery (FHD) is a key component of Curriculum 2.0. The goals of FHD are to integrate the patient care experience with health professions knowledge, integrate systems knowledge with patient care, nurture self-directed workplace learners, cultivate respectful professionals and prepare leaders who contribute to a collaborative practice-ready workforce. Vanderbilt University medical students can select one of two pathways to complete the program requirements for FHD. These pathways are Continuity Clinical Experience (CCX) or the Vanderbilt Program in Interprofessional Learning (VPIL).
Learn more about Foundations of Health Care Delivery
Learning Communities
The Learning Communities are intentionally developed longitudinal groups of faculty and students that aim to enhance students' medical school experience and maximize learning. At Vanderbilt, our focus within the Colleges on wellness and career advising addresses enhancing the student experience. The Learning Communities' academic component seeks to maximize learning, specifically learning related to student development as professionals.
Learn more about Learning Communities
Research
Research training and experience throughout the curriculum fosters the development of research acumen (i.e. teamwork, communication, critical thinking, inquisitiveness, analytical skill). It provides a scaffold on which to both practice medicine and perform research.
Learn more about Student Research
---
Our faculty values students' perspectives on their education, and invite students to take an active role in shaping the curriculum. We engage our students as partners in the design process from the very beginning as well as the ongoing continual improvement. Our students have an incredibly powerful voice in helping us make their education better. For more information, contact Cody Chastain, MD, Director of Evaluation and Assessment.