How to Find Your Class Roster
Do not use the University Online Grading system to record student grades. Final Evaluation and Grades should still be posted through the School of Medicine Online Grading system.
An Instructor of Record may view their Vanderbilt student rosters through the University Online Grading system.
1.  Login through the following URL: https://acad.app.vanderbilt.edu/online-grading
2.  Alter the term to the correct academic year (July 2018-June 2019 = 2018 Year)
3.  Check the 'Search My Classes' box, and click the 'Search' button.
4.  Click the 'Class Roll' link for the section you would like to view.

---
Give View Access to Your Roster
The Instructor of Record can give view access, on a class-by-class basis, to a Course Section Proxy of their choice. Look a course up using the VIEW YOUR CLASS ROSTERS instructions above and locate the + button by Course Section Proxy.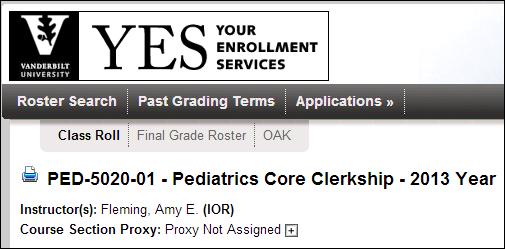 Click the + button and find a course proxy using one of the two look up functions (Name or VUNetID).  Click the Assign button and a class proxy will be added. You may only assign one proxy per section but that proxy may be assigned to many sections.