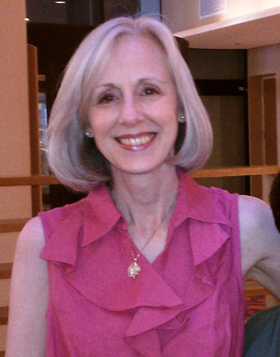 Ellen M. Kelly
Associate Professor, Hearing and Speech Sciences

---
: 6358 MCE South Tower
1215 21st Avenue South
Nashville, Tennessee - 37232
Education:
BA, Psychology, St. Bonaventure University (Allegany, NY)
MS, Speech-Language Pathology, Syracuse University (Syracuse, NY)
PhD, Communication Sciences and Disorders, Syracuse University (Syracuse, NY)
MS, Psychology, Divine Mercy University (degree expected: May, 2019) (Arlington, VA)
Biography:
Ellen M. Kelly, PhD, CCC-SLP, BCS-F, is Associate Professor in the Department of Hearing and Speech Sciences at the Vanderbilt University Medical Center (VUMC), a Speech-Language Pathologist at the Vanderbilt Bill Wilkerson Center (VBWC), Director of the Stuttering Foundation Program at Vanderbilt, and Executive Director of Camp T.A.L.K.S. (Talking And Learning with Kids who Stutter). Her clinical and research area of specialization is fluency disorders, particularly developmental stuttering. She teaches counseling courses to AuD and MS-SLP students, provides clinical services to those of all ages with fluency disorders and their families, and supervises students in clinical and research endeavors.. She presents research and clinical findings at local, state, national, and international venues and publishes her work in peer-reviewed journals.
Dr. Kelly is Director of the ECHOS (Early ChildHood Onset Stuttering) Clinical Research Project, bringing researchers, practitioners, and graduate students together to retrospectively and prospectively examine evaluation and treatment data from diverse clinical samples to advance our understanding of developmental stuttering and inform diagnostic and treatment protocols for clinical and research applications.
Teaches to MS-SLP and PhD students.
---