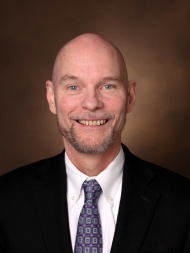 Mark Wallace
Louise B. McGavock Endowed Chair
Professor, Hearing and Speech Sciences
Professor, Psychology
Professor, Psychiatry and Behavioral Sciences
Professor, Pharmacology

---
: 7110B MRB III
Nashville, Tennessee - 37212
Education:
BA, 1985 Temple University (Philadelphia, PA)

MA ,1987 Temple University, (Philadelphia, PA)

PhD, 1990 Temple University, (Philadelphia, PA)
Biography:
Dr. Wallace received bachelor's degree in Biology from Temple University in 1985, and his doctoral degree in Neuroscience from Temple University in 1990, where he was the recipient of the Russell Conwell Presidential Fellowship. He did a postdoctoral fellowship with Dr. Barry Stein at the Medical College of Virginia, where he began his research looking at the neural mechanisms of multisensory integration. Dr. Wallace moved to the Wake Forest University School of Medicine in 1995. In 2006, Dr. Wallace came to Vanderbilt University, where he is a member of the Kennedy Center for Research on Human Development and an Associate Professor of Hearing & Speech Sciences and of Psychology. Dr. Wallace has received a number of awards for both his research and his teaching, including recently being awarded the Faculty Excellence Award by Wake Forest University and being named as the Outstanding Young Investigator in the Basic Sciences. He is currently the Director of the Multisensory Research Group at Vanderbilt, and the outgoing President of the Western North Carolina Chapter of the Society for Neuroscience. Dr. Wallace has an established record of research funding from the National Institutes of Health, and is the author of more than 75 research presentations and publications. His work has employed a multidisciplinary approach to examining multisensory processing, and focuses upon the neural architecture of multisensory integration, its development, and its role in guiding human perception and performance.
Teaches to PhD students.
---