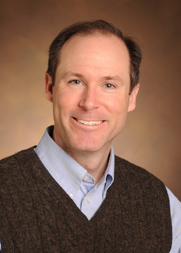 Michael de Riesthal
Associate Professor, Hearing and Speech Sciences
Director, Pi Beta Phi Rehabilitation Institute

---
: 9211 MCE South Tower
1215 21st Avenue South
Nashville, Tennessee - 37232
Biography:
Michael de Riesthal, Ph.D., CCC-SLP, is an Assistant Professor in the Department of Hearing and Speech Sciences (Vanderbilt University School of Medicine), and Director of the Pi Beta Phi Rehabilitation Institute. He completed his undergraduate education at Northwestern University, and his MS and Ph.D. in Hearing and Speech Sciences at Vanderbilt University. Prior to returning to Vanderbilt University he was a Senior Speech-Language Pathologist at the Department of Veterans Affairs Medical Center and an affiliate of the VA RR&D Brain Rehabilitation Research Center in Gainesville, FL.
Dr. de Riesthal's clinical and research interests include the management of neurologic speech, language, and cognitive disorders. He teaches courses on the management of aphasia and traumatic brain injury and supervises graduate students at Pi Beta Phi Rehabilitation Institute. He has published papers and book chapters on the topics of aphasia, progressive language disorders, and dysphagia, and has presented many scholarly papers in the area of neurologic communication disorders throughout the United States. He is a member of the American Speech-Language-Hearing Association (ASHA), ASHA Special Interest Division 2 committee on Advocacy and Reimbursement, and is the former Chair and a current member of the Department of Veterans Affairs Taskforce on Aphasia Treatment.
Teaches to MS-SLP and PhD students.
---