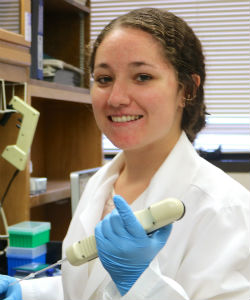 Alexandria Oviatt
---
Department: Chemical & Physical Biology
Faculty Mentor: Neil Osheroff, Ph.D.
Dissertation Description: Spermine Derivatives of Etoposide in Topoisomerase II Function
Etoposide has long been used as a cancer therapeutic because it both increases enzyme-mediated DNA cleavage and prevents religation of DNA. Six derivatives of etoposide are being characterized that have spermine tails attached; the tails theoretically allow the drugs to be targeted to the polyamine transport system upregulated in proliferative cells (including some cancerous cells), thereby making these derivatives more specific than the parent compound. Thus far, my results have shown that all six derivatives enhance cleavage mediated by the beta isoform of topoisomerase II as compared to the parent drug, etoposide. Continuing work on the alpha isoform will look at the effect of the six spermine derivatives of etoposide on the topoisomerase IIα-DNA complex for comparison to the beta isoform.
---