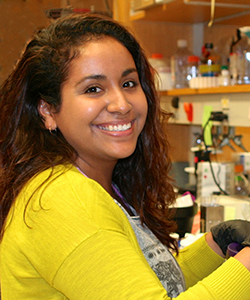 Francis Cambronero
---
Department: Neuroscience
Faculty Mentor: Angela Jefferson, Ph.D.
Dissertation Description: Vascular Risk Factors and Cognitive Aging
My research examines how changes in vascular structure and hemodynamics among older adults relate to cognitive aging. My research interests center around understanding how risk factors such as central arterial stiffening relates to brain health and neuropsychological functioning. I am particularly interested in studying the interaction between these vascular risk factors and genetic susceptibility markers of Alzheimer's disease. I utilize neuroimaging tools such as cardiac and brain magnetic resonance imaging (MRI) as well as neuropsychological testing to study changes across the cognitive aging spectrum.
---