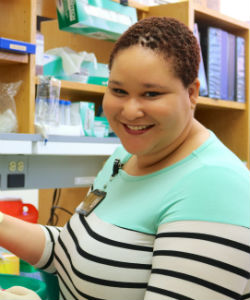 Shannon Townsend
---
Department: Molecular Physiology & Biophysics
Faculty Mentor: Maureen Gannon, Ph.D.
Dissertation Description: The Role of Integrins in Connective Tissue Growth Factor-induced Cell Proliferation
My lab focuses on potential therapeutics for Type 2 diabetes, specifically aiming at increasing proliferation in the insulin-producing beta cells of the pancreas. The mitogen I work with specifically is connective tissue growth factor (CTGF) which has been shown to increase proliferation. However, a receptor for CTGF is not known, but I hypothesize that it might bind to integrins. Therefore, I am utilizing pancreas-specific integrin knockout mice in order to elucidate the role of integrins in CTGF-induced proliferation. Finally, I would also like to uncover the signaling pathways activated by CTGF in order to cause this proliferation.
---