William W. Stead, MD
Monday, August 13, 2018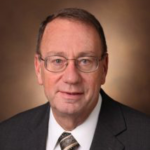 William W. Stead, M.D.
The Annette and Irwin Eskind Family Biomedical Library – Past and Future – Changing What Clinicians Need To Know and How They Learn
Dr. William Stead is Chief Strategy Officer for Vanderbilt University Medical Center (VUMC). In this capacity he facilitates structured decision making to achieve strategic goals and concept development to nurture system innovation.
Dr. Stead received his B.A., M.D., and residency training in Internal Medicine and Nephrology from Duke University. He remained on Duke's faculty in Nephrology as the physician in the physician-engineer partnership that developed The Medical Record (TMR), one of the first practical electronic medical record systems. He also helped Duke build one of the first patient-centered hospital information systems (IBM's PCS/ADS).
He came to VUMC in 1991 and holds appointments as the McKesson Foundation Professor of Biomedical Informatics and Professor of Medicine. For two decades, he guided development of the Department of Biomedical Informatics and operational units providing information infrastructure to support health care, education, research programs of the Medical Center. He aligned organizational structure, informatics architecture and change management to bring cutting-edge research in decision support, visualization, natural language processing, data mining, and data privacy into clinical practice. His current focus is on system-based care, learning and research leading toward personalized medicine and population health management.