Facing outward, giving back: MD Student Ambassadors offer a unique resource to new classes of medical students
by Emma Mattson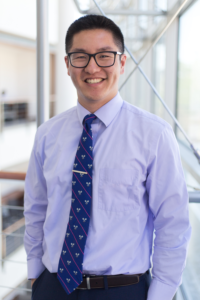 Third-year medical student Matt Lan still fondly remembers his interview day, which coincided with Vanderbilt's College Cup, an annual Olympics-style competition between the four School of Medicine advisory colleges.
"I just remember seeing all the students being really happy and really close with each other," Lan said. "There were faculty around as well who were happy about certain colleges winning and knew the students. It felt like a nice, warm family environment."
That same feeling of warmth influenced Adrian Cadar's decision to come to Vanderbilt for his MD-PhD.
Now a fourth-year, Cadar recalls, "When I came here, everyone was so warm and so welcoming. The administration really seemed like they liked their students. They were very supportive, and I felt that was something I couldn't find anywhere else."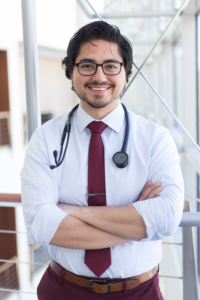 Today Lan and Cadar are passionate about passing on their experiences and wisdom to new generations of prospective medical students, who often bring a lot of unanswered questions.
What's Nashville like as a city? Can I afford to live here? What classes will I take my first semester? Where can I find the best tacos in the area? How much sleep do med students get?
Questions like these might seem too informal to ask a faculty member or admissions officer, and that's where Vanderbilt's MD Student Ambassador program comes in.
The MD Ambassadors are a group of current medical students who answer prospective student questions, both in person and through their shared email address, mdambassadors@vanderbilt.edu. During Second Look Weekend, they lead engaging campus and city tours, plan entertainment, and host small groups where admitted students can ask any remaining questions.
"The question that we want them to figure out is: why is [Vanderbilt] right for you? We provide them all the evidence to allow them to make that decision," Cadar said.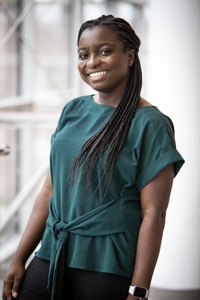 Some ambassadors see the program as an opportunity to continue work they began years earlier. Cadar, for example, worked with the Texas mentorship program Collegiate G-Force during his undergraduate years and later participated in an initiative to maximize student diversity in Vanderbilt's grad schools. As an undergraduate student, Lan led campus tours and helped plan the admitted student weekend at his college. Another ambassador, second-year Somto Ukwuani sees the ambassador role as a way to help other underrepresented minority students navigate the path to medical school.
"It's a great opportunity for us to be outward facing resources for the prospective and accepted students," Lan said. "I think every single person on our team loves meeting the students that come to interview or come to Second Look. They love talking about their experience, and that's the one thing we all definitely have in common."
The stories that the MD Ambassadors share often highlight their personal experiences of Vanderbilt's unique wellness culture.
"It's not just in the events that we have or the college system," Lan said. "People around you are always doing things outside of medicine that are making them happy. They're sticking to their hobbies. They're making time to work out, play sports, go see a movie or a concert."
The whole community—from the top of the administration all the way down to the first-year students—contributes to this culture, Lan said, and Vanderbilt's small class sizes mean that faculty and students connect from the get-go.
Cadar experienced this supportive community first-hand when circumstances forced him to switch labs in the middle of the fourth year of his PhD. The Vanderbilt administration worked to make the transition to his new lab seamless, so that he wouldn't have to delay his graduation, Cadar recalled.
"That was when I realized that Vanderbilt really took care of its students," Cadar said.
Ukwuani, too, loves to share stories with prospective students about how the strong community has shaped her medical school experience.
"I also just love to talk about Vanderbilt, so it's an easy role for me," Ukwuani said.
Read more about each of our MD Student Ambassadors, and send any questions about Vanderbilt, Nashville, or the med school experience to mdambassadors@vanderbilt.edu.