CCO President Karampreet (Peety) Kaur shares words of encouragement, a call for social justice, and hopes for the coming year
by Emma Mattson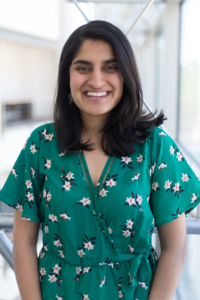 "My first message to the student body would be: thank you," said Karampreet (Peety) Kaur, rising fourth-year med student and Class of 2021 president.
"Thank you for being so helpful and patient and creative, honestly, in figuring out how we can continue to move forward in a positive way during such a challenging time that is so unknown to us all."
Times have been challenging indeed. In early March, the COVID-19 pandemic called our medical school community to adapt both classroom learning and clinical work. And, over the course of this spring, the horrifying murders of Breonna Taylor, Ahmaud Arbery, and George Floyd called our community to strengthen its stand against racial injustice and oppression.
According to Kaur, med students have an important role to play in the struggle for social justice.
"My second message is that, although it often seems like we live in a bubble during medical school, we cannot see ourselves as external to all that is happening in the world around us," Kaur said. "I believe we have a responsibility as leaders and healers to fight for our patients who have been systematically marginalized in our society."
Med students need to recognize how the medical profession has historically contributed to this marginalization, Kaur said.
"We have a responsibility to take action," Kaur said. "I know this will look different for each of us, but as future physicians we must understand that racism is a public health problem."
As the president for the Class of 2021, Kaur stepped into the role of Executive President of the Council of Class Officers this spring. Besides leading the CCO, Kaur also serves as the Vanderbilt Medical Association's primary representative to the Alumni Association and the All-University Council.
To her fellow fourth years specifically, Kaur says:
"Being a rising fourth year, I've felt like there is a lot of personal anxiety around what our residency application cycle will look like. A lot of things have changed for us, and it all makes sense; it should change. It just means that we are entering into this cycle of residency applications and interviews in a different setting than our predecessors. It's going to take a lot of patience and flexibility on our part."
"We have a responsibility to take action," Kaur said. "I know this will look different for each of us, but as future physicians we must understand that racism is a public health problem."
Still, the unexpected circumstances around this class's residency application period will have at least one benefit, Kaur says:
"We're actually going to be around a lot more than most fourth-year classes are. I would hope, speaking, as a fourth-year student, that we can still be resources for students who are in the classes below us."
That kind of community support has really shone through, Kaur says, as she entered this new role in the CCO.
"Something that brings me a lot of comfort is I'm obviously not doing this by myself. All the fourth-year class representatives serve in an executive role when they're fourth year, so I am very grateful for their leadership and very dependent on them as my co-leaders of CCO," Kaur said.
"My vice president, Natalia [Morales], and our class chairs and our treasure-tary are all super integral to making sure that CCO functions well," Kaur said. "And then, of course, all of the other class representatives bear a lot of responsibility."
Kaur's ultimate goal for the CCO? To represent the medical student body as accurately as possible.
"We are in this wonderful position as class representatives from each class to voice concerns to our deans from our peers—points of confusion, points of contention—so we can collaborate to make sure that the School of Medicine is giving us what we need to be well-trained, compassionate, and socially responsible future physicians," Kaur said.