M4 Lex Erath rejoins VUSM after MBA year out, reflects on med school experience
by Emma Mattson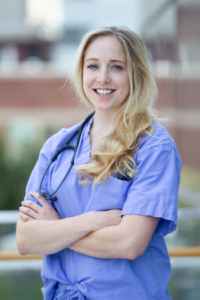 Five years ago, when Boston native Lex Erath first joined the Vanderbilt community, she packed a few doubts into her suitcase.
"While I was thrilled to be attending Vanderbilt University School of Medicine, I was also a little nervous about the culture shock of the South and Tennessee in particular," Erath wrote in a 2017 blog post for MD Admissions.
"The Northeast was all I knew, as almost my entire family lives there as well. How would I survive in this unfamiliar and totally foreign environment?"
Five years later, Erath still calls Nashville home. After taking a year out to complete an MBA at Vanderbilt's Owen Graduate School of Management, she jumped back into the Immersion phase this summer for her M4 year.
Reflecting on the past handful of years, she shares how she's grown at Vanderbilt— both personally and professionally.
When you look back on your M1 year here, what comes to mind?
Looking back at that time, I'm excited for first-year me and all the firsts in medicine I had yet to experience! It's also a striking reminder of how much I've grown as a student and in my clinical training. I didn't really "come into my own" at Vanderbilt until my second year, when we began clinical rotations on the wards.
To any first years or incoming students nervous about the sheer volume of classroom learning: I hear you, and it's totally normal to feel lost and overwhelmed during the first year. For me and many others, everything fell into place much more easily once I was able to see patients and put the ideas I'd learned in a clinical context.
How have you changed personally and professionally since that first year?
I've become a lot more confident in these past few years. I had immense imposter syndrome for most of my first year at Vanderbilt; I was convinced I'd somehow "snuck in" and that the admissions committee had made a major error.
Learning alongside such incredibly bright students was humbling at first. But eventually I realized I could and did keep up. I've also been able to pursue complementary interests of mine, such as developing a high-value care course and obtaining an MBA.
Has your perspective on medicine or medical school shifted at all?
My perspective on medicine has absolutely shifted. I'll caveat that I'm still a med student, and I have so much more to learn. But I've gained a ton of insight into the reality of practicing medicine in today's health care system.
Taking things one step further, my year at the business school has shown me how much many clinicians don't know about how health care is actually delivered. They say the most dangerous unknowns are the ones you don't know that you don't know. Right now, as I continue developing as a clinician, my focus is identifying my blind spots in medicine and health care, and working to fill in those gaps in my knowledge.