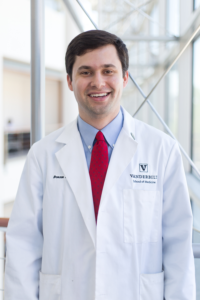 Bronson Wessinger
---
Why I Chose Vanderbilt
While attending Vanderbilt for undergrad, I came to love living in Nashville. It's possible to experience something interesting and different every day in the city, and there are great places to hike, bike, or camp within an hour drive from campus. In addition to the great setting, Vanderbilt's outstanding reputation and innovative curriculum were important factors in my decision to stay. Curriculum 2.0 allows students an entire year to pursue clinical and research interests. I knew this would give me time to explore several different options before finding the field that works best for me as a future career, and I felt the extra time for research and electives would help me have a stronger application when it comes time to apply for residency. During the first part of my Immersions Phase, I've already had the chance to spend an entire month exploring different career options. I've completed my first of three protected research months, and I know the progress I have made in my project would not have been possible without our curriculum's unique structure.
About Me
I am originally from Mobile, Alabama, and I graduated from Vanderbilt in 2017 with a degree in Biomedical Engineering. I spent most of my free time from elementary school through high school playing tennis, and for a time I wanted to play professionally. In my spare time, I enjoy racket sports, mountain biking, and playing more video games than I probably should.
---