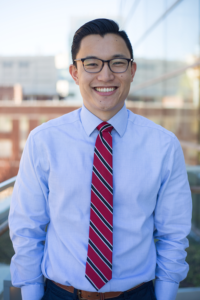 Daniel Hong
---
Hometown: Wayland, MA
Undergraduate University: Washington University in Saint Louis
Undergraduate Major: Biology, Anthropology
Career Interests: Orthopaedic Surgery
Why did you choose Vanderbilt? What do you like most about Vanderbilt?
The Immersion Phase is so money. Having an extra year to decide what you want to do, establish connections and research projects when you DO know what you want to do, and take interest-driven small classes ALL BEFORE you apply to residency is an incredible advantage over almost any other program in the country. Plus – Hot Chicken.
About Me
Avid cook, gym goer, HBO consumer. On the side, I am involved with Shade Tree Clinic (Vandy's student-run free clinic), Careers in Medicine Orthopaedic Interest Group, Admissions Office, Curriculum Committee, and clinical research – feel free to ask any questions!
---