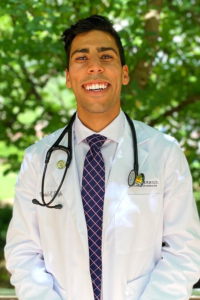 Danny Ragheb
---
Class of 2024
Program: MD
Hometown: Los Angeles, California
Undergraduate Institution: Harvard College
Major: Neuroscience
Specialty Interests: Cardiothoracic Surgery, Pediatric Cardiothoracic Surgery, Internal Medicine
Hey! I'm Danny, and I can't wait to show you all the ways you can get involved at Vanderbilt School of Medicine and In Nashville. I've been involved with our Wellness Committee, Social Mission Committee, Shade Tree Clinic (our free student-run clinic), AMA-TMA, Coptic Club, and Learning Communities Institute! That probably sounds like a lot, and you may be unsure of what each group is and does. That's why I'm here! I'm happy to chat with you about our student organizations and the work-life balance needed to stay involved in a healthy way. VUSM and Nashville offer great opportunities to connect with the community, whether that's through a specialty interest group or a night out watching a local sports team. Our medical student body organizes into four colleges (kind of like Harry Potter) that allow us to connect with one another and find strong support in everything from academic questions to group dinners out on the town. Our colleges and learning communities become families, and I hope you'll come join us!
Fun fact about me: Like many who move to Nashville, I've developed a love for Hot Chicken! Ask me about the best places to grab the iconic staple.
Reach out to me about:
Student life
Local sports (to play or watch)
Work-life balance
Research
Have questions? Reach out to any ambassador!
---