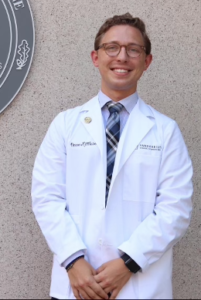 Drew Kittleson
---
Class of 2027
Program: Medical Scientist Training Program (MSTP)
Hometown: Doylestown, PA
Undergraduate Institution: Northwestern University
Major: Neuroscience
Specialty Interests: Psychiatry, pediatrics, neurology
Hello there! My name is Drew, and I'm in the Medical Scientist Training Program here at Vanderbilt, working toward both my MD and a PhD! More than any other school to which I applied to or at which I interviewed, Vandy made me feel welcome and like they wanted me here. The combination of great weather, great city, driven students, and warm faculty didn't hurt, either! I wanted to find a place where my colleagues would accept me and I could vibe with the town, especially because I will be here for a long period of time in my program. I've found a great community here where I serve on the MSTP Outreach Committee and Social Mission Committee and remain active with LGBT MD. I work to help deepen our education on LGBTQ+ health, encouraging my peers to become strong advocates as competent providers. I found a community of predecessors at Vanderbilt working to do the same thing, and I hope you will find the same strong sense of community and support here!
Fun fact about me: If you hand me the mic on karaoke night, I'm either singing "Bring Me to Life" or anything by Lady Gaga!
Reach out to me about:
Student life
MSTP
Time between college and medical school
LGBTQ+
Food and drink in Nashville
Have questions? Reach out to any ambassador!
---