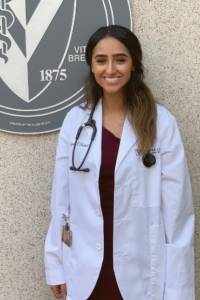 Gloria Nashed
---
Class of 2024
Program: MD
Hometown: Windermere, FL
Undergraduate Institution: Brown University
Major: Biology
Specialty Interest: Ophthalmology
Hello there! I'm Gloria, and I hope to give you a good snapshot of what life is like at Vanderbilt University School of Medicine! Aside from getting onto the wards earlier in you medical career than at other schools, I love that Vanderbilt really feels like a family. The faculty know each one of us personally and want to do everything in their powers to help us succeed. We have plenty of room to explore our passions by working through the curriculum. I'm involved with Medical Photography and the Student Technology Committee while also serving on the Curriculum Committee. I love that students can be actively involved in our own education, and faculty listen to student needs and interests. We have a chance to work side by side at Shade Tree Clinic, which is student run but advised by faculty members. I look forward to connecting with you to tell you more about the big picture of what's offered at VUSM!
Fun fact about me: When the clock strikes upon the hour, and the karaoke machine begins to fade to my song, I'm definitely singing "I Wanna Dance with Somebody" by Whitney Houston!
Reach out to me about:
Curriculum
Living in Nashville
Have questions? Reach out to any ambassador!
---