SNMA leaders Jackie Antoun and Helen Gambrah lay foundation for coming year, reaffirm priorities
by Emma Mattson
Community service, mentorship, a commitment to eliminating health disparities— these values all come together in the Student National Medical Association (SNMA). One of more than 170 chapters across the U.S., the Vanderbilt SNMA holds elections every summer to usher in a new executive board.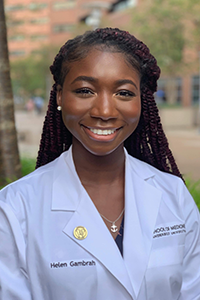 This June, SNMA members elected Jackie Antoun as president and Helen Gambrah as vice president for the coming year. The two leaders had previously served on the '19-20 SNMA board as vice president and first-year representative, respectively.
We sat down virtually with Antoun (rising M3) and Gambrah (rising M2) this month to learn how the events of this spring have changed their focus for the coming year.
Reaffirming SNMA's Core Values
As Antoun and Gambrah take on new leadership roles, SNMA's emphasis on mentorship and service will not change. But events this spring—including widespread uprisings against police brutality, sparked by the murder of George Floyd—have prompted the two leaders to reaffirm their commitment to serving underrepresented minority (URM) medical students.
"In light of the recent national tragedies, a lot of our goals for next year are going to create these safe spaces where students can come and bring all their anxieties, whatever's on their heart, their frustrations and present that to a group of people in this really inclusive and safe space," Antoun said.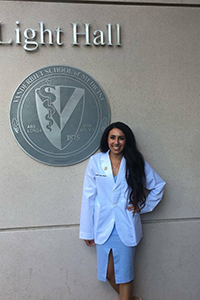 And, per Antoun, SNMA will be looking for tangible ways to dismantle the racist systems oppressing Black and other URM medical students.
"These were issues that SNMA has always cared about and wanted to talk about and support, and now with the scale that it's on on a national level, there is increased interest," Gambrah said. "I'm hoping that SNMA can provide a bridge, an opportunity to talk about that, and get people who might not have been involved or known a lot about this to get involved."
An Enduring Mission of Mentorship and Service
Antoun and Gambrah also outlined goals for furthering SNMA's commitment to mentorship and service.
SNMA's partnership with the Minority Housestaff for Academic and Medical Advancement (MHAMA) program at VUMC offers one pathway for mentorship. MHAMA and SNMA work together to pair medical students with resident or faculty mentors in their areas of interest.
SNMA members then pay it forward by mentoring high school and college students through the Minority Association of Pre-Medical Students (MAPS). MAPS offers pre-med students a window into life at medical school through shadowing and engagement events like the annual Day in the Life.
When it comes to service, Antoun and Gambrah aim to strengthen SNMA's relationship with Men of Valor, a Nashville-based non-profit that serves men who have recently completed prison sentences. SNMA members will have many opportunities this year to support and serve with Men of Valor, Antoun said, in hopes of developing a lasting partnership between the two organizations.
Planning for the Fall Semester
Alongside Antoun and Gambrah, SNMA's executive board will include med students Whitney George, Donald Okoye, Nur Eken, Kelsey Richard, Taylor Robinson, Candace Grisham, Somto Ukwuani, Eki Olumese, and Samuel Massion.
The incoming executive board has also opened applications for several other positions, including treasurer, fundraising chair, and historian.
In the meantime, the summer months will be a time for planning and preparation, Gambrah said.
"We're setting the foundation of what the year is going to look like," Gambrah said. "There are of course going to be obstacles that come up, but we have a great team that will be able to get through it."