Student Care Network
The Student Care Network (SCN) consists of four primary entities that focus on a holistic, integrated network of care for students. In addition to the four primary entities, the SCN includes multiple layers of support, including Project Safe, the Black Cultural Center, the Office of LGBTQTI Life, and the Recreation Center. Students are encouraged to visit the Student Care Network to explore options for support.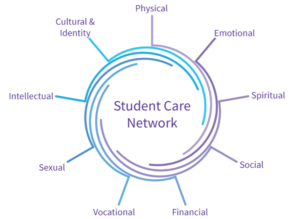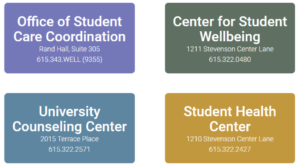 Office of Student Care Coordination
The OSCC is the central and first point of contact to access the Student Care Network and support services in the Nashville community. The OSCC provides coordination of care for undergraduate students, graduate students, and professional students.
Services include:

Intake/assessment
Referrals
Supportive follow-up
Medical leave of absence
Students of concern
Consultation for faculty/staff/students/families

Complete the online Student Care Coordination Intake Form with the Office of Student Care Coordination and schedule an appointment.
Website (includes contact and hours): https://www.vanderbilt.edu/carecoordination/
University Counseling Center
The UCC provides mental health services to ALL Vanderbilt students.
Services include:

Crisis and trauma-informed care
Short-term individual counseling
Group psychotherapy (process and skill-building)
Psychiatric services
LD/ADHD assessment
Alcohol and drug evaluations/counseling
Biofeedback
Community outreach
Training programs

The UCC operates on a short-term model of therapy, which focuses on specific actions and solutions that may be possible based on your individual concerns. Typically, the UCC does not see students weekly or long term. If students are interested in seeing a therapist frequently or for a longer period of time, off-campus treatments can be discussed.
Website (includes contact and hours): https://www.vanderbilt.edu/ucc/
Center for Student Wellbeing
The CSW utilizes motivational interviewing techniques to help students set and achieve goals related to various dimensions of wellbeing. Goals can be related to enhancing coping skills and resilience, financial wellbeing, study skills and time management, etc.
Services include:

Wellbeing, academic, and peer coaching
Vanderbilt Recovery Support (VRS) services
Meditation and yoga
Student-led initiatives
Skill-building workshops
Trainings to identify and respond to student needs
Substance use screenings
Awareness and prevention programming
Referrals

Website (includes contact and hours): www.vanderbilt.edu/healthydores
Student Health Center
The Student Health Center serves the primary care needs of the Vanderbilt student community. There are no office co-pays for routine visits, and all registered students are eligible for care, regardless of insurance.
Website (includes contact and hours): https://www.vumc.org/student-health/services
For immediate crisis:
For life threatening emergencies, immediate action must be taken:Call VUPD 615-42(1-1911) or 911 (emergencies)

615-322-2745 (non-emergencies)
Visit the nearest emergency room. The closest emergency room to campus is the Vanderbilt University Medical Center Emergency Room located at 1211 Medical Center Drive, Nashville, TN 37232

To speak with a counselor immediately –> 

Crisis Care Counseling at the University Counseling Center

or call the UCC at (615) 322-2571

Academic Hours (begin August 19): M-F 10:00-4:00

Vanderbilt Psychiatric Hospital (M-F, 8AM-11PM and Sat-Sun 8AM-8PM) or the VUMC ER for acute assessment and support if, UCC Crisis Care Counseling hours are closed and it is an emergency.
Student of Concern Report
At any time, students or faculty may submit a Student of Concern Report to share concerns about a student's personal, physical or emotional wellbeing. This form is not designed to be used as an emergency response notification.
This form can be found here: www.vanderbilt.edu/studentcarenetwork/helping-others/