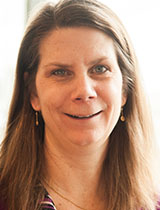 Kathleen Neuzil, M.D., M.P.H.
Program Leader, Vaccine Access and Delivery, PATH

---
Dr. Kathleen Neuzil recently announced WHO prequalification of a lifesaving Japanese encephalitis vaccine for children. As director of the Vaccine Access and Delivery Program at PATH, Kathleen Neuzil, M.D., M.P.H., directs the non-profit health care organization's activities in vaccine access and delivery. She earned her M.P.H. from Vanderbilt in 1998 and recently delivered the keynote address during Vanderbilt's annual clinical and translational research retreat.
---