Alumni Profile: Nichelle Winters, M.D., Ph.D. ('15)
by Abin Abraham (M1)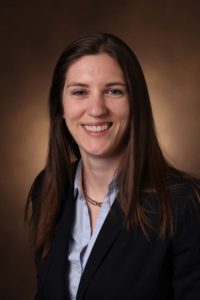 Dr. Winters is a recent graduate (2015) of the Vanderbilt MSTP program. She is in her first year of Internal Medicine Residency at Vanderbilt University. Dr. Winters hails from Vale, Oregon and came to Vanderbilt with an interest in developmental biology. Under the mentorship of Dr. David Bader during graduate school, she investigated the development of serosal mesothelium in the chicken embryo, which is a progenitor tissue for the vasculature and fibroblast skeleton of internal organs. One of her favorite things about Nashville is the parks, especially Percy Warner Park.
Reflecting on your journey thus far as an MD/PhD, what has been the most impactful training experience in preparing you to establish your career?
"Graduate school has had the most impact by far. There is the very practical benefit of gaining experience in writing manuscripts and grants and technical skills which will be necessary for an academic career but more importantly, I left graduate school knowing I really loved science and that it was still what I wanted to do for the rest of my life. It's a long training road so I think that knowledge is important."
Looking back on your training, what is one thing you would do differently? What is the most important piece of advice you would give to current MSTP trainees?
"I would have tried to get involved with our clinical colleagues much earlier. There are a lot of excellent scientists doing purely clinical research at Vanderbilt, and I have appreciated learning more about what they do and how they approach problems. I know quite a few MSTP students also have small clinical research projects, and I think that is valuable. As far as advice, I would suggest avoiding making decisions about the rest of your career when you are in the 'dark phases' of training (leaving your medical school class behind, the last crunch of graduate school, re-joining medical school and feeling incompetent, February of intern year…). "
What role did your PhD training serve in your career thus far? Do you plan on pursuing a similar line of research? What are some of the barriers that graduates of MSTP programs encounter when trying to attain the proverbial 80-20 clinical:research time split?
"I plan to transition to something more clinically oriented. I still would like to have a very basic science approach but focus on a clinical problem. I think that combination is what makes M.D.-Ph.D. training useful. The training of graduate school is mostly about learning how to think like a scientist. I don't think the techniques or field matter much. The major barrier I have run into is the very long training path. Training fatigue is real."
How did you end up selecting the medical field of your residency as well as the institution you joined? For MSTPs that want to pursue both science and medicine in their careers, what specifically should they look for in residency programs?
"I was interested in fibrosis as a process since early in medical school and particularly idiopathic pulmonary fibrosis because of its subserosal origins and inexorable progression. I also really enjoyed physiology. I kept an open mind during my clinical rotations but pulmonary disease is the most fascinating thing out there and the ICU is real time physiology so it was an easy decision in the end. I thought at the end of 9 years at Vanderbilt, that I would like to move programs for residency training. I interviewed at 11 programs across the country but couldn't find another program that had the combination of excellent clinical training and research opportunities that Vanderbilt did. I also was only looking at fast track programs and the Harrison Society at Vanderbilt is a unique program. I do think the research fast track is an excellent option for M.D.-Ph.D.s that want to continue in academic medicine. If one does decide to fast track, my advice would be to choose a residency primarily on the fellowship program and research opportunities available at the institution. However, there certainly needs to be a strong residency program that is supportive to fast trackers."
Training to become a physician scientist is one of the most exciting career pathways. In managing the demands brought on by such a training regimen, what advice do you have to maintain a positive work-life balance?
"Each phase of training has its own challenges. At the beginning of intern year, one of the Chiefs, Wade Iams, said, 'Choose one thing you love and keep doing it at all cost. Not two things.'; I thought that was good advice and I will pass it on for the times your work-life balance seems to be a struggle."
What is the best part of residency? What is the most challenging aspect? What was the biggest surprise? Do you think going through your residency that this experience is different for M.D.-Ph.D.s? If so, can you expand?
"There are a lot of good things about residency but I think amazing colleagues are the best part. The most challenging aspect is the lack of free time. The work is fun and rewarding so it is usually not until you are walking out of the hospital in the dark knowing that you are going to be back before it gets light again that you might wonder why you made particular life decisions. I don't think the experience of residency is all that different for M.D.-Ph.D.s other than the fact that you really relish the basic science talks."
What advice would you give MSTP trainee to make the most of the two types of training we receive as medical students and as PhD candidates?
"I think when you are first learning anything it pays to be focused. It is difficult to flip back and forth. As you learn and become comfortable with a new skill set, it will more naturally incorporate itself into everything else you do. At least I hope so!"
What characteristics define an excellent physician? An excellent scientist? An excellent physician-scientist?
"Curiosity, kindness and asking the next question. I think that is true for all three."
Is there anything else you would like to add?
"I still think it's all worth it."