Lunch with Alumnus Sam Santoro, M.D., Ph.D. ('79)
by Ayesha Muhammad (M2)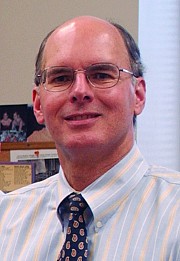 The latest installment of Lunches with Leaders was held on February 6th, 2018 with Dr. Sam Santoro, Dorothy B. and Theodore R. Austin Professor and Chair, Department of Pathology, Microbiology and Immunology (PMI). Dr. Santoro graduated from the Vanderbilt MSTP in 1979 and then moved to Barnes Hospital, where he completed his residency in laboratory medicine. He proceeded to join the faculty at Washington University in St. Louis. He was very glad to offer his perspective on his career path, and advice on how to navigate various stages in our professional lives.
Over lunch, Dr. Santoro recalled his very interesting path to an administrative position at Washington University in St. Louis. He believes that everyone works at a different pace and thus might come to a point at different stages of their career when they might want to transition out of the traditional physician-scientist role into a role as an administrator. For example, during a crucial moment in his scientific career at St. Louis, when his lab was transitioning to cell adhesion and mouse work, he was offered the Interim Chair position for the Division of Laboratory Medicine. At that time he felt compelled to devote his time to his lab, so when asked if he wanted to stay on as permanent chair, he outright refused. When the position of Interim Chair presented itself ten years later, he enjoyed the same administrative responsibilities greatly, attributing the change in perspective to the position of his lab and his own professional trajectory. Thus, he happily agreed to continue on as permanent chair when asked. In fact, the opportunity prompted him and his wife Dr. Mary Zutter (Vice President for Integrative Diagnostics, Louise B. McGavock Professor of Pathology, Microbiology & Immunology) to decide to spend the rest of their lives in St. Louis, ironically less than a year before getting a job offer from Vanderbilt.
Dr. Santoro recalls his transition to Vanderbilt as an opportunity to develop "something great" because of Vanderbilt's attitude of the continuous pursuit of success. He called himself a "professional recruiter" during the first few years as Chair, working towards his and his colleagues' vision. He reports that this vision at Vanderbilt has no limits: the PMI department has been aiming to achieve national leader status in every sub-field, unlike most other academic institutions. He also sees the recent successful restructuring of the PMI department as a way to achieve that leadership status and hopes that the initial satisfaction of faculty and students continues to persist with time. Attributing these successes to Vanderbilt's "special sauce" — the community and people he is surrounded by, who share the same ambitious aims for the department — he emphasizes the importance of creating a nurturing environment for junior faculty members. He is now the longest serving Chair of a department at Vanderbilt.
When asked for his advice for students, Dr. Santoro strongly recommends we maintain a continuous "learn on the job" attitude, which can be a powerful tool on this physician-scientist journey, both in conventional and non-conventional professional career paths.
It was delightful for us to see the enthusiasm he brings for his job, mentorship responsibilities, and especially Vanderbilt's diagnostic business ventures. We really appreciated Dr. Santoro's availability and his openness during our conversation.