Double Feature: Meet Alumnus and Avery-Cohen Associate College Advisor Curtis Gabriel, M.D., Ph.D. ('14)
by Ayesha Muhammad (G1)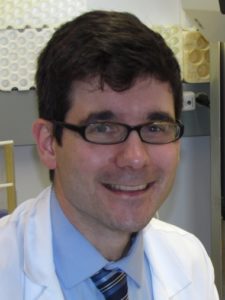 Meet Curtis Gabriel, Avery-Cohen PSTP adviser and Vandy MSTP alum (PhD '12, MD '14). He worked in the lab of Dr. Amy Major (Avery-Cohen faculty adviser) during his time in the program, getting a PhD from the department of Pathology, Microbiology, and Immunology. He did his residency at Vanderbilt, as part of the Harrison Society Physician Scientist Training Program, and is currently in the third year of his Gastroenterology fellowship. If you see him around, be sure to ask him about the 8 home technology automation hubs that he currently employs in his home!
How did you first become interested in research?
I had a close family member with a chronic medical condition with no known causes or treatments. As a middle school student, I decided to learn as much as possible about the disease, which included going to the library and making photocopies of journal articles.  That initial exposure to basic research and clinical research led me to Johns Hopkins for college, a series of research internships and, ultimately, the Vanderbilt MSTP.
Where did you go to medical school, and what brought you to Vanderbilt?
My pre-med advisor recommended that I apply to the Vandy MSTP.  I didn't know much about the school when I applied, but I fell in love with Nashville, Vanderbilt, and the MSTP when I came to interview.  The MSTP director at the time sealed the deal when he told me that he had a summer college job at one of my favorite Wisconsin Dells tourist traps (Tommy Bartlett's Ski, Sky & Stage Show, for the record).
What are your ultimate career goals?
I want to contribute to research that leads to the development of new therapies for fatty liver disease.
What advice do you have for current MSTPs?
There's a tendency towards rabid self-sufficiency in the people that pursue our career path, and we're often too reluctant to ask for help out of concern of looking weak or stupid.  Make sure that you surround yourself with mentors from all levels of training that you can call for help. Routine obstacles that you'll encounter during your career will seem insurmountable when you don't have a good, diverse group of advisors
What unique perspective do you bring to physician-scientist training?
Pass!  Bonus question below.
What's the definition of a good mentor?
Someone who will bail you out of jail.
What is one "fun fact" about yourself?
My cat was just hospitalized after ingesting a foreign body.