MSTPets: Part 10
by Rachel Brown (G2)
An ode to our furry friends who help us study for anatomy practicals, keep us company while we write our papers and thesis dissertations, and welcome us home after a long shift on surgery.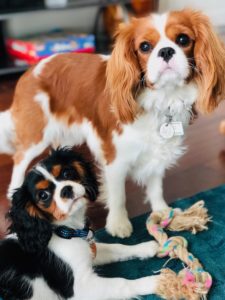 MSTPets: Charlie and Cody
Ages: Charlie – 1 year old, Cody – 4 months old
MSTParents: Zack (M2) and Zsanett (VUSN) Williams
Cody's Research Interest: Investigating gustatory sensation provided by different human facial structures
Charlie's Research Interest: Refining facial cues and basic behavioral signals to acquire palatable human food
Fun Facts: Charlie was born in Hungary, and Cody came to us from Missouri. Their favorite hobbies are chasing a laser pointer up and down the hall of our condo building, growling at each other, stealing each others' toys, fighting over one dog bowl even though there are two bowls full of food at all times, and pulling each other's ears, tails and fur.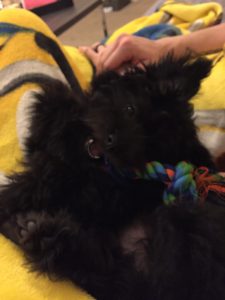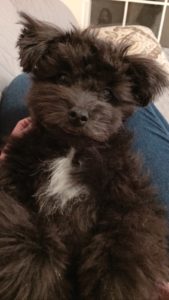 MSTPet: Toby Brown Hsu
Age: 5 months old
MSTParents: Ben Brown (G2) and Grace Hsu
Toby's Dissertation: The Physicochemical Properties of Fallen Leaves
Fun Fact: Toby has a deep suspicion of doors/entryways.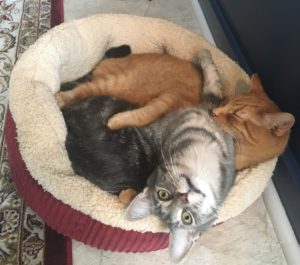 MSTPets: Tiger and Nemo
Ages: 10 months old (Tiger) and 9 months old (Nemo)
MSTParent: Emily Chu (M1)
Publication: "Prolonged fasting induces panic attacks when dinner is delayed by two minutes" (Nature 2019)
Fun Fact: We have an instagram! @tigerandnemo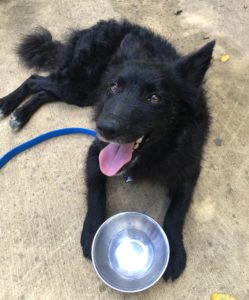 MSTPet: Hero
Age: 2 years old
MSTParents: Evonne McArthur (G1) and Ankith Donthi (VUSN Pediatric NP 2nd year student)
Field of Study: Phobia-ology–a series of case studies into scary things: blenders, vacuums, trucks, small people, big people, baths
Fun Fact: Like all sane humans, Hero LOVES cheese.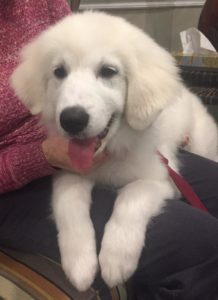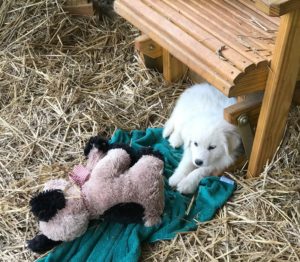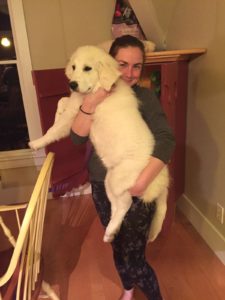 MSTPet: Rosalind Franklin York (we call her Lindy)
Age: 5 months old, a Great Pyrenees, a gift from a friend
MSTParent: Dr. Sally York (MSTP Associate Director for Clinical Education)
Field of Study: Currently focused on wrestling strategies using her big sister Mae (the sweet and patient one) as a sparring partner.
Fun Fact: Lindy has double dew claws on each rear paw, giving her 22 toes!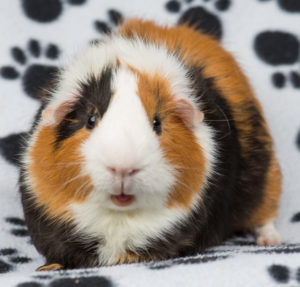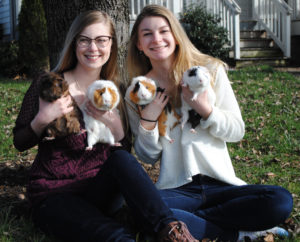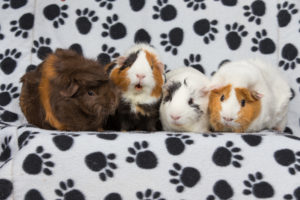 Honorary MSTPet: Clementine
Age: 1 year old
Parent:Sarah Brown (VMSI)
MSTP Aunt and Uncle: Rachel Brown (G2) and Matthew Stier (M4)
Field of Study: Cuddling need assessment in young adults with an impending Homeostasis exam
Fun Facts: Clementine was adopted from the Knoxville Guinea Pig Rescue in August 2018. She shares a cage with her husband, Marshall, and likes to socialize with her cousins, Buffy and Willow. Her favorite activity is to pull all of the hay out of her hay manger and stomp it into the ground.