Meet Goodpasture College Advisor James Goldenring, MD, PhD
by J-N Gallant (M4)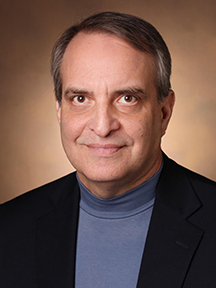 James Goldenring was born in New Haven, Connecticut and grew up as the "Kennedy ideal"; as a Northeasterner with "a Yale degree and a Harvard education." After completing his undergraduate studies at Harvard, he pursued a combined MD-PhD at Yale, focusing on molecular biochemistry and being, arguably, the first to purify CaMKII from the brain. While this major discovery assured him guaranteed neurology residency positions (before even starting his medical school clinical training[!]), surgery—with its personalities and possibilities—eventually won his heart.
Talking with Dr. Goldenring is like watching a documentary about the history of surgery in 20th century America. Characters are featured prominently, and a large field becomes small and intimate, clearly led by a few visionaries. Perhaps none of these leaders had more of an impact on Dr. Goldenring than Irvin Modlin. The two met in the midst of a gastrectomy during the back half of Dr. Goldenring's medical school training. During the surgery, a question from Dr. Modlin—how is acid secreted from parietal cells?—sent Dr. Goldenring back to the lab, feverish for answers. On his first day investigating parietal cells, he discovered CaMKIII, and, within a few months, he began describing a system of manganese-dependent protein kinases—which, in turns out, would be the MAPK cascade. The combination of discovery and technique hooked Dr. Goldenring. In retrospect, he knew that he was a "fixer" and not a "manager" of chronic disease.
Dr. Goldenring went on to general surgery residency at Yale, continuing to work with Dr. Modlin's GI surgical research group. In a, then unconventional, 1,200 square foot open lab space, Dr. Goldenring had his own technician during residency. With this set-up, he was able to focus on his surgical training during the day and meet with his technician after the end of his shift, review results, and catch a few hours of sleep. The period during his surgical training was a great leap forward in surgery due to the advent and rapid adoption of video endoscopy and laparoscopic surgery. "Everything changed," per Dr. Goldenring, during his postdoctoral research time in the middle of residency. While he had started his residency looking down into the abdomen, surgical techniques changed radically during his postdoctoral research time, and he finished his training looking up at video screens. He decided to forgo his chief residency years and joined the Yale faculty. With all his favorite open operations transitioning to laparoscopy, and with momentum and success in the lab, Dr. Goldenring decided to stop operating and solely pursue science. He still is "not sure how he made this decision"; but, no pun intended, "went with his gut." He used similar reasoning to follow another mentor from Yale, Howard Rasmussen, to found the Institute of Molecular Medicine at the Medical College of Georgia, where he was able to flesh out his research career and lab. Some years later, we successfully recruited Dr. Goldenring to Vanderbilt.
With his own unique path, perhaps, then, it is only fitting that Dr. Goldenring is pushing the envelope for the training of future surgeon scientists. He was recently awarded a $2.5-million Physician Scientist Institutional Award from the Burroughs Wellcome Fund. The goal of this grant is to support (MD-only [for now]) surgeons and interventionalists in training (of all types; e.g. including gastroenterologists) who are interested in pursuing careers in basic or translational science. A critical portion of the grant supports supplies and 50% of a technician so that grantees can return to their clinical training while continuing their research and learning to supervise a lab team. He hopes that such a program can help reduce the incredible anxiety about how to carry a research program through an already busy procedural residency or fellowship.
Throughout his career, Dr. Goldenring has had issues "when [folks have] put [him] in a box." He enjoys working with his hands, which he assumes is why MD-PhDs are interested in careers as surgeon scientists. Despite not operating anymore, he has to work with his hands—whether it be twirling and clicking a needle driver as he meets with people or running gels. Science and working with his hands are like breathing; he just has to do it. He wants to enable others with the same itch. Just as he saw the coming of age of laparoscopy, so too he sees the next wave of surgeon scientists. It's "the best time ever to be a proceduralist who wants to do science."