Meet Goodpasture Associate College Adviser: Jeeyeon Cha, MD, PhD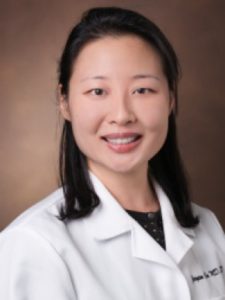 by Ayesha Muhammad (G1)
Dr. Jeeyeon Cha, is one of our newest PSTP advisors for Goodpasture College. Dr. Cha completed her training with the University of Cincinnati MSTP. She is currently a fellow in adult endocrinology and has enjoys studying conserved mechanisms across species, which can have big impacts in our understanding of human disease. Dr. Cha shared more about her journey and some advice for our students.
What residency/fellowship program and year are you in?
Adult Endocrinology fellowship, Second year (first research year)
How did you first become interested in research?
I've been fortunate to have great mentors who made research fun and engaging. I was an undergraduate lab tech in the joint laboratory of Christopher Wylie, PhD and Janet Heasman, PhD at Cincinnati Children's studying development in the frog model, Xenopus laevis. They were instrumental in nurturing a love for basic science and solidified my interest to understand clinical disease through basic science. My interest in maternal-embryo interactions and hormone action led to doctoral training with Sudhansu K. (S.K.) Dey, PhD, who was recruited from Vanderbilt to start a Division of Reproductive Sciences at Cincinnati Children's. He's become my most significant influence in science as a lifelong mentor and friend.
Where did you go to medical school, and what brought you to Vanderbilt?
University of Cincinnati's MSTP with doctoral training at Cincinnati Children's. VUMC and its Division of Diabetes, Endocrinology and Metabolism have a strong history of excellence in basic and clinical research, and the Vanderbilt PSTP's structured program and genuine commitment to training and career development stood ahead of other programs.
What are your ultimate career goals?
My career goal is to become a physician-scientist studying cellular and tissue aging and stress signaling in aging-related diseases such as diabetes and in reproduction. Although they seem disparate, these processes have much in common in terms of nutrient sensing and intercellular signaling.
What unique perspective do you bring to physician-scientist training?
My research focus has always been very basic, and I enjoy studying conserved mechanisms across species, which can have big impacts in our understanding of human disease. For example, one of my doctoral studies identified a transcription factor important for embryonic diapause, a rare reproductive strategy to temporarily arrest embryonic development and delay implantation, in mice, North American mink and Australian tammar wallaby. This factor was then found to be aberrantly expressed in women with recurrent pregnancy loss. I found that to be really interesting. For my postdoctoral training, I joined the lab of our PSTP director Patrick Hu, MD, PhD to study a protein conserved in worms, mice and humans which may have implications in diabetes.
What advice do you have for current MSTPs?
Enjoy your research years! Despite obstacles and setbacks, it is a finite period when your time is truly protected to think deeply about your research. You may not have this opportunity again for a while.
What is one "fun fact" about yourself?
Living in Nashville, I'm trying to get back into playing the violin and had fun playing with some of the talented (and patient) violinists in Vanderbilt's med school!