Introducing the Vanderbilt MSTP Incoming Class of 2019!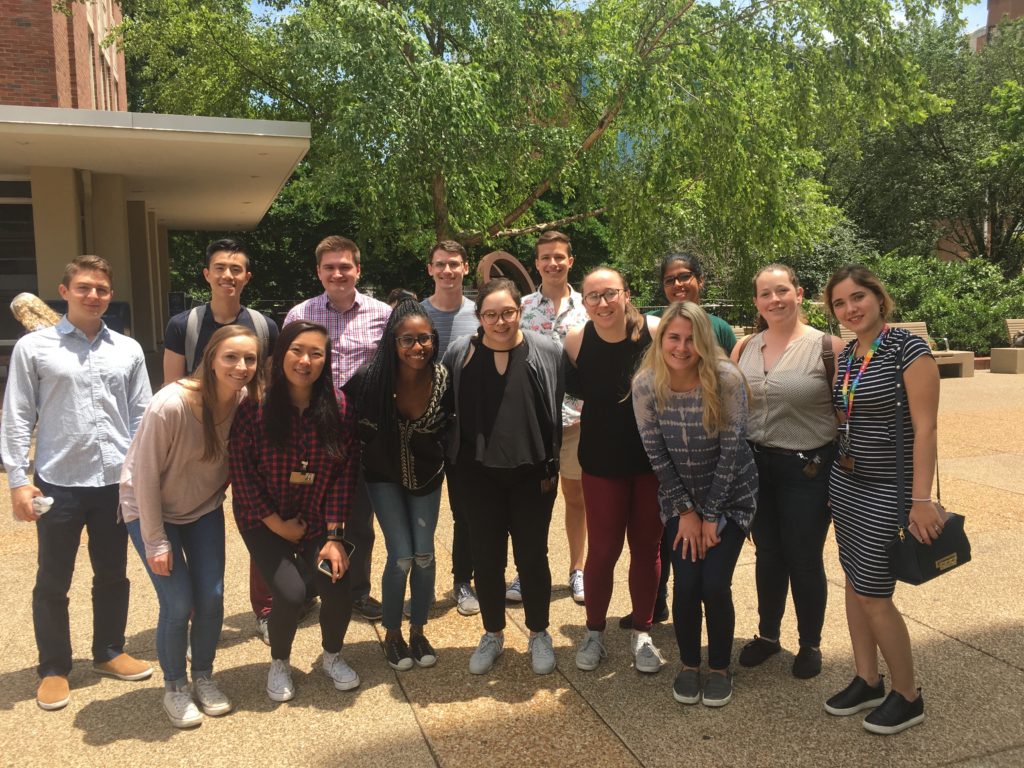 The Vanderbilt MSTP is excited to introduce the incoming class of 2019, who started the program orientation on June 18th. We are delighted to have such a bright group of future physician-scientists join our program. Welcome, new M1s!
Aaron Gochman
Hometown: Long Island, New York
Undergraduate: Stony Brook
Major: Biology
Research Interest: Neurological and psychiatric diseases
Talents: I played the trumpet a long time ago and was good at baseball, but now it's just for fun 
Ansley Kunnath
Hometown: Allentown, New Jersey
Undergraduate: Rutgers University
Major: Cell Biology and Neuroscience
Research Interest: Molecular psychiatry research and working with medically underserved communities.
Talents: I can play the ukulele!
Avery Bogart
Hometown: Cleveland, Ohio
Undergraduate: Ohio University
Major: Biological Sciences
Research Interest: Pathophysiology of metabolic dysfunction/diabetes and/or kidney disease
Talents: I have a really good sense of smell LOL, and I think I'm good at cooking and ceramics
Candace Grisham
Hometown: Memphis, Tennessee
Undergraduate: Vanderbilt University
Major: Biomedical Engineering
Research Interest: Regenerative medicine and drug delivery
Talents: I can pole vault
Clara Si
Hometown: Toronto, Canada
Undergraduate: New York University
Major: Biochemistry and Honors Classical Civilization
Research Interest: Infectious diseases, especially host-pathogen interactions and innate immunity
Talents: I have perfect pitch and played the violin for 16 years. I'm not sure if this is a talent, but I also have an abnormally high pain tolerance which might explain why I enjoy extreme sports so much?
Derek Doss
Hometown: Berryville, Arkansas
Undergraduate: Vanderbilt University
Major: Biomedical Engineering
Research Interest: Finding engineering approaches to neurological diseases
Talents: I can identify almost any car (model, make, and year) just with a quick glance
Evelyn Kandov
Hometown: Queens, New York
Undergraduate: Stony Brook
Major: Biology
Research Interest: Mucosal immunology, OB/GYN and women's health
Talents: I can bake and cook well and I have a green thumb 
Jennifer Peek
Hometown: Nashville, Tennessee
Undergraduate: The College of William and Mary
Major: Biology and Economics
Research Interest: Using wet lab genetics to create translationally-relevant therapies for inherited disorders
Talents: Play 3 instruments (saxophone, piano, drums), singing, tetris pro
Mark Rusznak
Hometown: Nashville, Tennessee
Undergraduate: Pomona College
Major: Chemistry
Research Interest: Immunology, auto-immune diseases, transplant immunology, pulmonology
Talents: I can speak Hungarian and I'm good at swimming
Megan Tigue
Hometown: Henderson, Kentucky
Undergraduate: Colgate University
Major: Biochemistry
Research Interest: I'm interested in studying cancer biology
Talents: I don't know if this counts, but I used to make and decorate wedding cakes with my mom
Monika Grabowska
Hometown: Charlottesville, Virginia
Undergraduate: University of Virginia
Major: Biomedical Engineering
Research Interest: Research: bioinformatics and computational/systems biology
Talents: Any pizza is a personal pizza if you believe in yourself
Sarah Reed
Hometown: Orinda, California
Undergraduate: Tufts University
Major: Biology
Research Interest: Interested broadly in cancer biology
Talents: I'm good at finding my sister's lost items from across the country
Thomas Li
Hometown: Saratoga, California
Undergraduate: Duke University
Major: Computer science
Research Interest: Biomedical informatics
Talents: Drawing, bluffing in poker
Victor Borza
Hometown: Franklin, Tennessee
Undergraduate: Dartmouth College
Major: Biomechanical engineering
Research Interest: Computational methods and machine learning applied to medicine
Talents: I know way too much about the FDA approval process for medical devices (Class II)