Alumni Profile: William Nobis, M.D., Ph.D. ('11)
by Camille Wang (G1)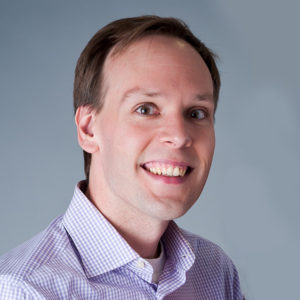 Dr. William Nobis, M.D. Ph.D., is an alumnus of the Vanderbilt MSTP ('11) and an Instructor in the Department of Neurology here at Vanderbilt. I had the wonderful opportunity to talk over a video call about his path to his current position and various lessons he's learned along the way. 
His career path to becoming a physician scientist:
Dr. Nobis grew up in a small town in Michigan, where his father was a dairy farmer and he had not yet thought to go into medicine or science. Initially starting as a biochemistry and animal science major at Michigan State University, he found his passion for research while working in a molecular biology lab on diseases that affect dairy cattle.
"I realized I really liked [research], and during that time my grandmother was also suffering from Alzheimer's. I thought it would be great if I could do something in medicine, but I also really liked science and so happened on the MSTP programs," he explained.
He thus applied and matriculated to the Vanderbilt MSTP program. There, he was the last class of the more traditional curriculum, before the current block-based system. He did five rotations before ending up in the lab of Danny Winder, Ph.D. "If you don't mesh with someone or if you're not really excited about what they're doing, don't force it," he advised. "That's a big relationship – if I asked my mentor for advice in the middle of residency he would respond with a detailed email. He stays with you throughout."
During graduate school, he worked on the bed nucleus of the stria terminalis (BNST), using electrophysiological techniques to investigate corticotropin releasing factor and how it affects glutamatergic and noradrenergic signaling. "[During grad school], you're not far out of medical school, but it can be hard to think of how it can relate to outside just your science and more towards human health. That's something you should always be questioning, and applying it to other things as you move forward," he said. 
After returning to graduate school, he found himself drawn towards neurology. He then pursued a neurology residency at Northwestern University, followed by a fellowship year.
During the research phase of his fellowship, he worked with Geoffrey Swanson, Ph.D., where he studied kainate receptors and learning in the hippocampus. However, he found his research passion being drawn towards other areas – he noticed that during intracranial recordings, stimulating the amygdala can cause the patient to stop breathing.
"I thought, that's really interesting – it makes sense because it's through the connection of the amygdala and the BNST which is what I studied with Danny Winder," he explained. He delved into the literature and found it to be a very consistent response, and that it might be implicated in a syndrome called sudden unexpected death in epilepsy patients (SUDEP). In SUDEP, a patient with epilepsy dies suddenly without any cause, and it's the number one cause of death in patients with refractory epilepsy. He pitched the project to Dr. Swanson, and they wrote an institutional grant that received funding. 
"I'm really motivated by this work because I know it's impactful, and I see these patients [in clinic]," he said. It was an ideal situation of being able to bring clinical observations to the lab, and vice versa.
After fellowship, he stayed at Northwestern University as faculty. At this time, his wife wanted to move back to Nashville for a job opportunity as an occupational medicine physician. Vanderbilt was in the midst of a search for a new neurology chairman and there was no opportunity for Dr. Nobis to move. But the following year the position was filled by Dane Chetkovich, M.D. Ph.D., who also had previously been on the faculty at Northwestern University. Dr. Nobis was offered a job in 2018, and thus started at Vanderbilt University as faculty. Since then, he has started his lab which studies SUDEP and the circuits that mediate apneas in epilepsy. He hopes that what he learns about these circuits can help shed light on how one can modulate them in patients using neuromodulation devices or more targeted pharmaceuticals.
 Though it is not an easy career path, Dr. Nobis has found academia to be right for him so far.
"I did consider [other options], but after doing research as a resident and liking it, I wanted to give academics a try," he said. "It's certainly not an easy career path, and you have to have good mentors and be proactive and advocate for yourself and find environments where you can thrive and where there's a lot of support."
He found that it was during residency that he realized he wanted research to be an important part of his career, as the residency can be time consuming. "You will figure out once you're [in residency] whether you want to continue doing science or not, or if you want to do more clinical stuff," he explained.
While he recognizes the increasing difficulty of obtaining funding in academia, he enjoys many aspects of his current position, from doing research to teaching to clinical duties. "If you are someone who is curious about lots of things …it's such a unique and ideal career."
Dr. Nobis helped start the Shade Tree Neurology specialty clinic, and now he volunteers as an attending for it. 
"I'm really happy to see that Shade Tree is alive and thriving so well," he said. He was part of the class that started Shade Tree when it was in its infancy at the trailer park, and he was one of the first people to help start the subspecialty neurology clinic. In fact, earlier this year when he was volunteering as an attending he actually saw a patient that he had taken care of when he was a medical student, a realization that delighted the entire team he was working with.
"I wish [Shade Tree] didn't need to exist but it does, and it's wonderful for the community. It's also wonderful for the students and a great place to interact with students [as an attending]," he said. He advocated for the experience, explaining that students get a unique exposure to the social work side of things that one may only have previously experienced in the classroom.  "Everyone's there as a team, and it's really cool to be involved."
Dr. Nobis offers a breakdown of his current schedule.
He strongly recommends having protected time for research early on in an academic career. "If you don't have protected time, you're not going to be productive, you're not going to survive. I'm very lucky that I have protected time here."
As a junior faculty, he currently spends half a day in clinic per week, and he does six weeks of service per year. As for the research aspect, he spends every other day in the lab. He is also part of the teaching curriculum when he is on service, teaching fellows how to read EEGs.
At home, he has 2 year old twins and a 5 year old daughter, making for a fairly busy household. "I like to see my kids, so I have tended to get here in the morning at 6am and leave at a normal hour like 5 so I can have time at home," he explains.
With the current coronavirus situation, his wife, an occupational medicine physician at Vanderbilt, has been working more hours since she is part of the group that is tracking exposures. "My mother in law is helping out and staying with the girls 3-4 days a week, and I'm home the other 3 days. As you can imagine, with kids I'm far less productive now. But I'm making it work, and everyone's under the same odd situation," he said.
———————————————–
Dr. Nobis' lab can be found on the 6th floor of MRB III, and he loves to interact with students. Make sure to introduce yourself if you run into him on campus or at Shade Tree! He will hopefully be taking grad students soon in his growing lab, so please reach out if interested.