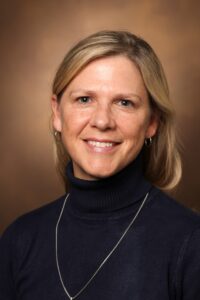 Anna (Paige) N. Vinson, Ph.D.
Research Assistant Professor, Pharmacology

---
Paige Vinson is a Research Assistant Professor of Pharmacology and works within the Warren Center for Neuroscience Drug Discovery (WCNDD) as part of the Molecular Pharmacology team. Her experience has spanned across industry and academia, revolving around finding and implementing solutions for scientists and groups of scientists to best apply technologies to their research. Her interests as a VU faculty member include applying quantitative approaches to questions in neuroscience to provide insight into the underlying mechanisms in this complex area. Her primary role within the WCNDD involves helping to progress drug discovery projects by guiding the studies that are needed to understand compound activity at the molecular level, including performing in vitro functional and biochemical measurements at disease related GPCR targets.
Paige currently serves on the editorial board of SLAS Discovery.
---