The Vanderbilt experience develops extraordinarily talented and dedicated young people while they study under world-class faculty, provides them with an innovative curriculum, and prepares them to be leaders in medicine. The personal, distinctive Vanderbilt University School of Medicine experience is built upon, and constantly informed by, a focus on innovation and discovery, training students to bring the latest research and practices in outstanding patient care to their work.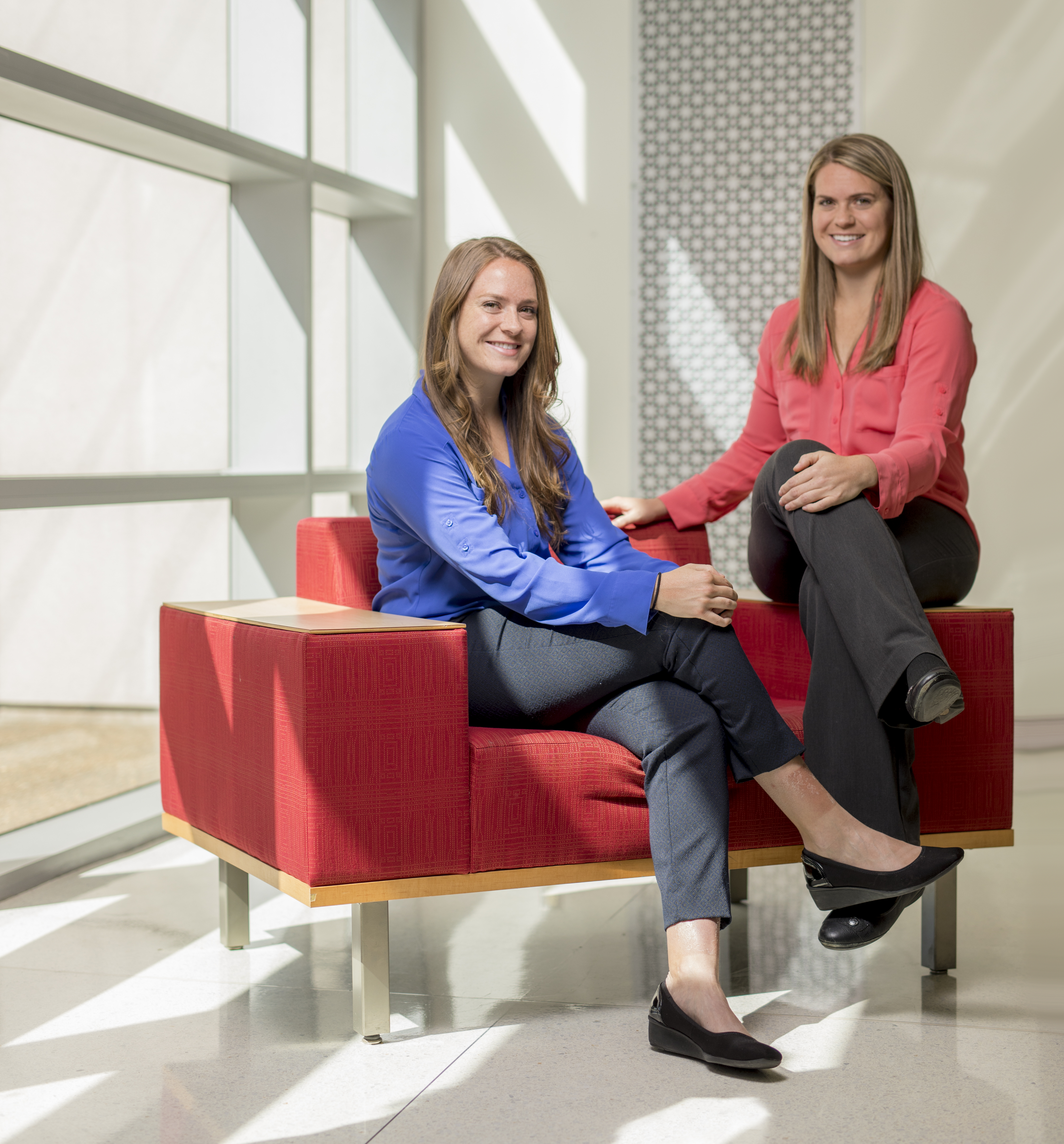 SHELBY
PAYNE
MD'19
John M. Leonard, M.D., Scholarship
1979 School of Medicine Class Scholarship
SYDNEY
PAYNE
MD'20
Romm Family Scholarship
David Hitt Williams, MD Memorial Scholarship Fund
Dr. Frank C. and Connie Ewell Spencer Medical Scholarship
Adventure—the word that describes the lives of twins Sydney and Shelby Payne. With medical school becoming one of their most exciting undertakings, they are making the journey together.
Their interest in medicine is, in part, attributable to Shelby's diagnosis with type 1 diabetes at age 11. Sydney was by her side through the entire patient experience.
Talented and capable, they found the perfect fit within our culture, embodied by involved faculty, engaged students and concern for student wellness. "I am so happy that I am able to pursue my dream of becoming a doctor every day," Shelby said.
They will be able to make plans for residency training with a lesser burden of debt, thanks to scholarship support.
SIX
number of clinical departments in the
TOP 10 FOR NIH FUNDING
65
Percentage of 2018 graduates who matched into
TOP 25 U.S. RESIDENCY PROGRAMS
6,412
NUMBER OF APPLICANTS
for 96 openings in the incoming class
17
number of faculty elected to the
NATIONAL ACADEMY OF MEDICINE
10TH
NATIONAL INSTITUTES OF HEALTH
ranking for total grant funding
SCHOLARSHIPS
Scholarship support is critical as we compete to bring the brightest minds to our campus. The ability to offer scholarships allows Vanderbilt to recruit a unique class of student—with passion for medicine, fulfilling an intrinsic sense of obligation to be leaders and dedicated to their communities. Financial support also provides these aspiring physicians with the freedom to choose their career path with lesser concern for student debt and greater focus on following their passions, making them better, more engaged physicians.
ENDOWED CHAIRS
As competitive as student recruitment has become, the recruitment and retention of high-quality, compassionate faculty to teach those students may be even more intense. Endowed chairs can provide a critical advantage for us. Not only are our faculty highly marketable in academic medicine, but we also compete with community clinics, major health care networks, and the entire health care industry to find the best physicians and scientists to shape medical leaders of tomorrow.
Endowed chairs provide leverage to bring and keep them here. Recently, after an extensive search for the perfect candidate, Dr. Young Kim joined our faculty as the Barry and Amy Baker Chair in Laryngeal and Head and Neck Research. A renowned clinician-scientist, he is also lauded for his character and integrity. The Baker Chair played a tremendous role in providing the resources essential to recruiting him into our ranks.
RESEARCH
Charitable support for medical research at Vanderbilt University will produce one of the best available returns of any investment opportunity. These gifts leave a legacy of impact through the generation of new ideas and discoveries. As a part of a major research university and with access to nationally ranked clinical treatment centers, the infrastructure is already here. Therefore, philanthropic support allows us to launch newly funded research very quickly—and accelerate the discoveries that lead to new therapies. An example of excellence in action, of how we bridge the bench to the bedside—VU319, a new drug candidate developed by Vanderbilt scientists. It has the potential to treat both Alzheimer's disease and schizophrenia, and it is now in patient trials at Vanderbilt University Medical Center.
ANNUAL GIVING
Annual gifts can go to work immediately and allow leaders to address our most critical and often unforeseen needs. These gifts are a sustaining resource and make a real impact through:
Additional scholarship support for talented students who aspire to become Vanderbilt physicians
Funding innovative programs that generate ideas and cultivate exploration in both clinical and scientific contexts
Enhancing the student experience through opportunities like the Careers in Medicine Program, which provides structured advising for students as they explore specialties and career options to ensure success in their professional journeys
PLANNED GIVING
Planned gifts, including bequests and life income gifts, help you meet your financial and charitable goals while supporting groundbreaking discovery over the long term. When made to the endowment, these gifts carry on a legacy. For example, when Ann Light passed in 1983, the Ann Light Scholarship Fund was created through a charitable trust and has provided support to almost 30 medical students. Light was the wife of former faculty member and trustee Dr. Rudolph Light Jr., BA'34, MA'36, and contributed substantially throughout her life.
"It is the entire character of the physician that matters. There are a lot of medical schools that can train doctors to diagnose and treat disease, but the essence of medicine is far more than that. It is the way physicians interact with patients and with one another. Support for Vanderbilt's School of Medicine helps us not only teach the facts but create an atmosphere that trains great doctors."

— Jeffrey R. Balser, M.D., Ph.D., Dean, School of Medicine
How the School of Medicine's $132 million endowment is used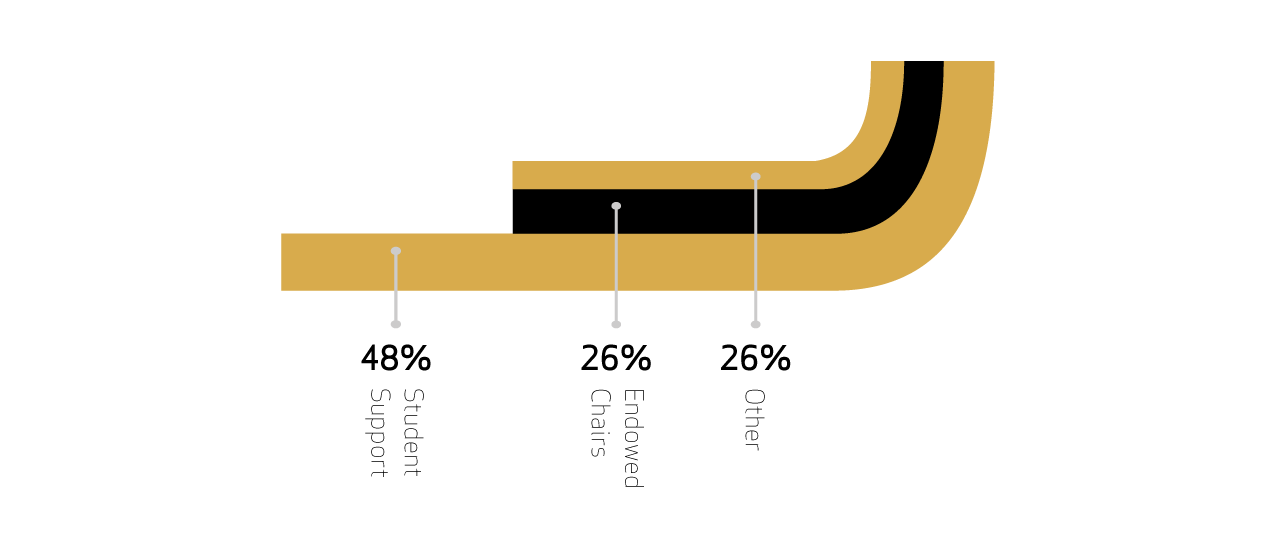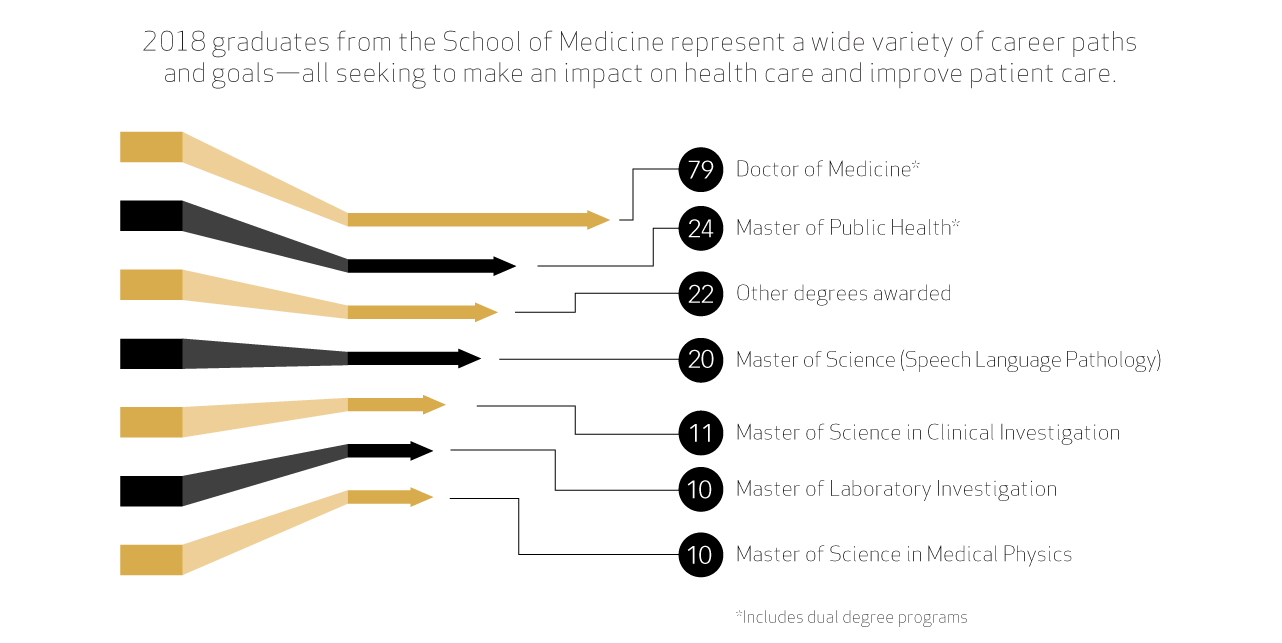 For more information about how you can join us in improving medical training and patient care at Vanderbilt in our next 150 years, please contact (615) 875-1760 or VUSMGiving@vanderbilt.edu.