Mentor Expectations & Information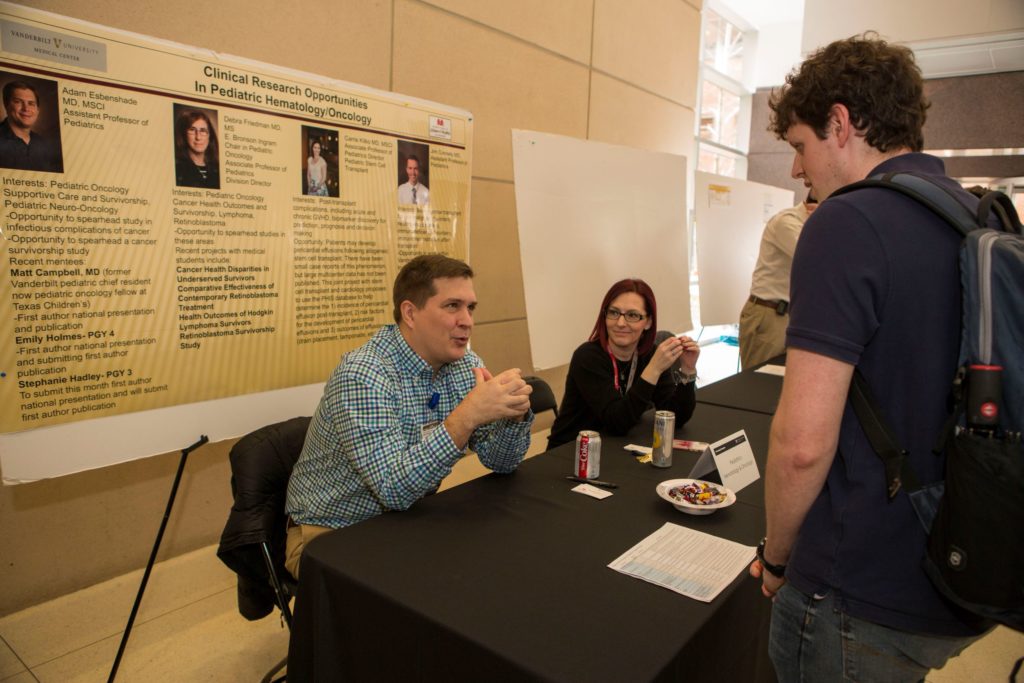 Dr. Adam Esbenshade talks to a VMS student about clinical research projects
If you are considering mentoring a student, thank you! The Office of Medical Student Research (OMSR) cannot overstate how much our medical students benefit from exceptional Vanderbilt faculty mentors.
The authors of a systematic review of mentoring in academic medicine found that
[m]entorship was reported to be an important influence on personal development, career guidance, career choice, and productivity. Respondents identified mentoring to have an important effect on research productivity, including publication and grant success (JAMA, Sambunjak et al., Vol. 296, No. 9, p. 1113).
We are delighted that you are considering mentorship and hope that the following information and resources will be helpful to you.
Mentorship in the Research Immersion (RI) Phase
Vanderbilt MD students complete a 3-6 block research project (roughly equivalent to 3-6 months) during the Immersion Phase (the final 2 years of the MD curriculum). These blocks may be contiguous or spread out based on the specific nature of the project and mentor approval.
Learn more about the Inquiry Curriculum in Curriculum 2.0 and view the Inquiry Program Handbook.
The OMSR provides unrestricted mentor support funds to each mentor's cost center to support the student's research involvement. Here are a few suggestions for use of these funds:
statistical software
VICTR fund matching
lab supplies
student travel reimbursement (Students also receive up to $850 from OMSR to present first-authored RI research. Please ask your department's financial administrator to reach out to us if you'd like to use your funds this way, and we will help coordinate.)
poster printing
Timing for Student Research
Students typically identify a research mentor and develop a project by the end of their 2nd year. Students must complete a project plan by no later than the end of September of their 4th year of medical school, though we recommend that they begin their project no later than April of their 3rd year so that they may share products on their residency applications.
Overall Mentor Expectations
Assist student in planning their project by setting reasonable, attainable goals and establishing a timeline for completion of the project
Meet with the student on a regular basis
Direct the RI project
Provide an environment that is intellectually stimulating, emotionally supportive, safe, and free of harassment
Hold students accountable for their time and effort by following the expectations of the Immersion Absence Policy
For more specific mentor expectation details, please see our Research Mentor Overview.
Mentor Agreement Form
In preparation for beginning their Research Immersion, each student must work with their Research Mentor to develop their project.  To facilitate setting the stage for this process and the Immersion to follow, we require students to submit a "Mentor Agreement Form" (REDCap) signed by their mentor.  You are welcome to review this document in preparation for working with an Immersion student.