Children's Hospital gets to heart of boy's rare disorder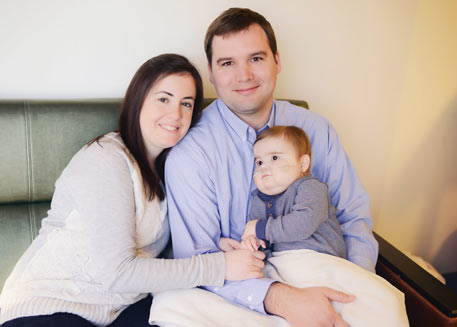 Two-year-old Luke Reaves was diagnosed a year ago with cardiomyopathy (a weakened heart muscle) caused by a rare hereditary metabolic disorder, Barth syndrome.
With only about 200 reported cases of Barth worldwide, finding a hospital that understood a metabolic heart condition like Luke's was important for Emily and Jason Reaves, even if it meant traveling outside their hometown of Alabama. They learned that Monroe Carell Jr. Children's Hospital at Vanderbilt cardiologists had expertise to treat children with these conditions, including Barth.
"Many pediatric heart institutes do not have pediatric cardiologists with the expertise. So, because Barth is a rare disease, it is possible to miss the diagnosis, as it is not often seen," said Vernat Exil, M.D., a pediatric cardiologist at Children's Hospital.
After Luke's diagnosis, doctors managed his heart failure with medications. He celebrated his first birthday June 18, 2013, but as the weeks wore on his lethargy worsened and he became fussier. The Reaves then met with Exil who told them they should consider getting him worked up for heart transplant.
Luke was admitted to Children's Hospital shortly after and listed for a heart on Aug. 2., 2013. On Jan. 28 Luke's parents got the call—a heart was available.
"If only we could find some way to make that decision (organ donation) easier for families," Emily Reaves said. "Luke wouldn't be like this today if it weren't for that family who had to make a great decision in a horrible time in their life."
To learn more about the Pediatric Heart Institute at Monroe Carell Jr. Children's Hospital at Vanderbilt, go to childrenshospital.vanderbilt.org